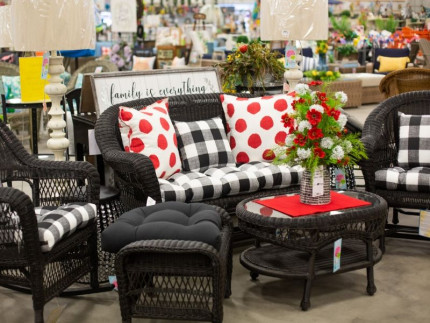 5 Mini Front Porch Makeover Tips
It feels like the moment you decorate your space, a new trend arrives and it's time to change it all again! It's hard to keep up, isn't it? A new season brings a new desire for a fresh look…AND a pretty big dent in your pocket! But, it doesn't have to!

At Carolina Pottery, we're all about saving a pretty penny! We want the styles you see and love to be in your reach. We follow the trends and keep our prices low so that you can decorate with the styles you love every season (or month!) without worrying about your bank account. Sometimes, a quick pillow switch and new door hanger can be all you need for a new look.
While we carry decor for every space in your home, we want to focus today on the front porch. The front of your home makes a big statement. It's the first thing your guest sees when they visit your home. You want your friends and family to feel welcome before they even knock on your door. Plus, who doesn't love good curb appeal?
Whether you have a huge front porch or a simple front door stoop, we have 5 simple and affordable tips you can use to "wow" your neighbors every season without breaking the bank!
1. Set the stage with FLAGS!
If you have to choose just one item to add to the front of your house, a flag is the way to go! Flags are a great way to add "a little something" to your home during any season without having to worry about weather damage. Sure, over time, harsh sun and storms will ruin your flag, but overall, they hold up well on their own. Flags don't require a lot of effort or maintenance. They can be quickly hung and can singly elevate your curb appeal. At Carolina Pottery, we offer standard large flags as well as a HUGE selection of garden flags. Our garden flags are so affordable...and adorable...that you'll definitely want to grab 2-3 while you're in the store and even switch them out throughout the same season. Trust us, it's hard to choose just one! Plus, a selection of garden flags paired with a stand makes the perfect gift for a birthday, wedding, or house warming present!
Not only do flags hold their own, they are versatile! You can mix and match them and even change where you hang them outside your home. For a classic look, hang an American flag or show your state pride with a state flag (we know our South Carolina customers have that down!) Add personalization with our selection of monogram flags and be ready for ANY holiday with our wide variety of seasonal/holiday designs. We even have flags that match a selection of doormats and mailbox covers so you can coordinate everything to a "T"!
Don't forget to grab a new flag pole and garden flag holder before you walk out of the store!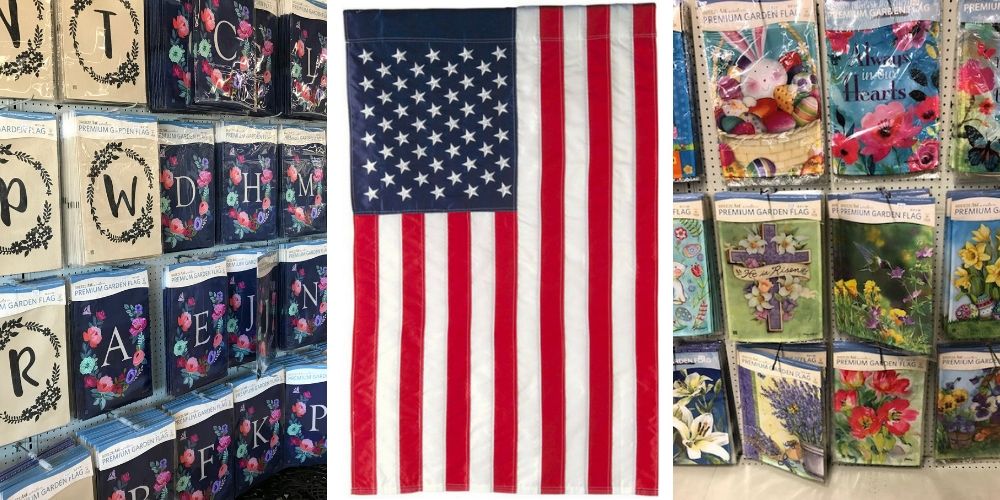 2. THINK OUTSIDE THE BOX WITH FRONT DOOR DECOR!
Second best to flags, your front door decor! The only reason this didn't make #1 on the list is simply for the fact that you have to be more weather-conscious with front door hangers. However, your front door is the focal point to your home and what welcomes your guests inside. It should send an inviting message! It's a great opportunity to add your own personality in bold or subtle ways. Do you love bright colors and big statements? A big floral mesh wreath would be the perfect addition! Want to keep it more classic and simple? Grab a pretty boxwood wreath and hang it with your favorite ribbon.
The fun part about decorating your front door is that you don't HAVE to use a wreath? Don't get us wrong, we LOVE a good wreath, but we also like to mix it up! Hang a monogram wood letter for a personal touch. Find a sign that speaks to you and tie on a bow to dress it up for a new twist. Get creative for the holidays and hang a decorated
BUTTERFLY
,
WITCH HAT
,
TEARDROP
, or
SCARECROW HAT
. (click for tutorials) We like to get creative and think outside the box! The best part? There are no rules, so have fun playing with ideas and adding a creative welcoming touch to your door!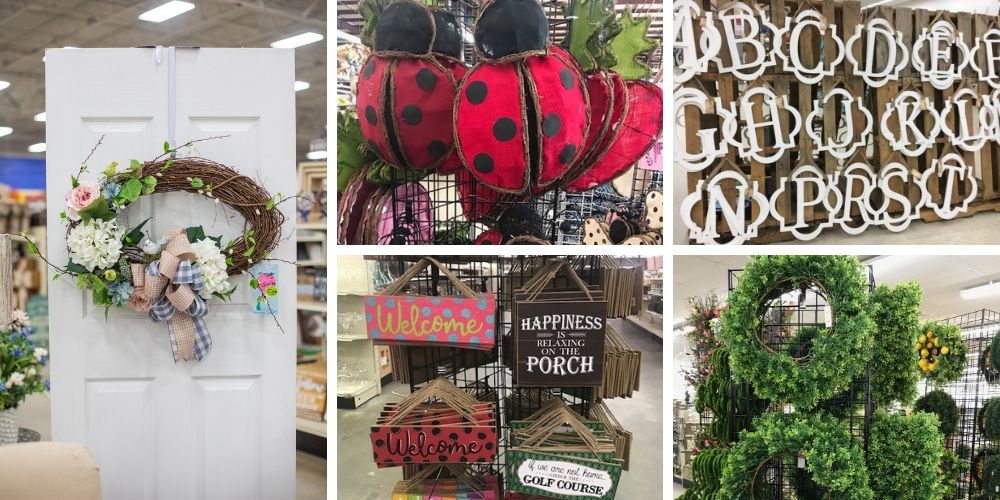 3. ADD COLOR WITH CUSHIONS!
Let's be honest, those late summer night front porch talks will only last so long when you're shifting your weight trying to find a comfortable spot. No one likes a hard seat! That's where our outdoor pillows and cushions come in! Have you seen our selection? At most stores you'll find an end cap or two of a variety of outdoor cushion options, but we have AISLES. Aisles, and aisles, and aisles, of rocker pads, single U cushions, double U cushions, ottoman cushions, and outdoor pillows. We like having options when we decorate and want to make sure you have a good selection to choose from as well.
Whether you're trying to match an older set of cushions you already own and going for a totally new look, we have something that will work for you! Keep it simple with our solid color cushions for versatility all year round. For example, grab red cushions and pair them with floral printed pillows for summer and then switch them out for a green and red pattern at Christmas! Mix up your prints, patterns, and colors at any time for a completely new look.
Change your pillows but keep your cushions...
Change your cushions but keep your pillows...
Mix two cushion patterns with solid pillows...
Mix two pillow prints with solid cushions...THE OPTIONS ARE ENDLESS AND AFFORDABLE so a quick swap is always within your reach.
Plus, our cushions are weather resistant! We're always receiving new styles so pop in to browse regularly!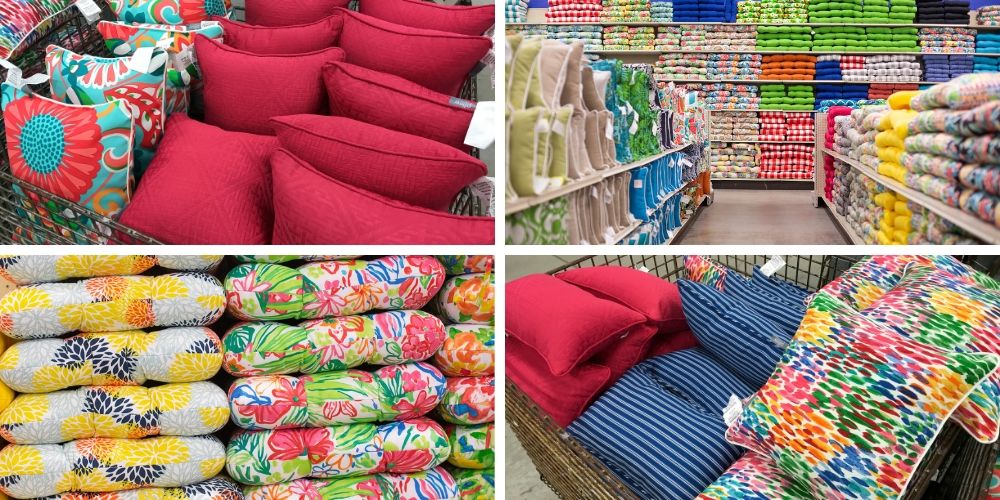 4. DON'T FORGET TO WIPE YOUR FEET!
While we all need a good doormat to keep our homes clean, these days, we have so many options to choose from, we can now take a functional item and make it part of our decor! At Carolina Pottery we are always bringing in new doormats for each season. We have a huge selection of coir doormats that are always being restocked. We have simple "welcome" coir doormats as well as colorful printed coir mats. We have a big selection to choose from in our stores but you can shop an even wider selection online HERE.
Our mat mates and sassafras inserts are a customer favorite...and understandably so! Simply buy one of the rubber mats and then replace the insert for every season and holiday. They are extremely affordable and stylish! We keep our inserts fresh every month and can hardly keep them on the shelves. The inserts are the simplest way to keep your style fresh and is the most affordable whenever your doormat finally "bites the dust!"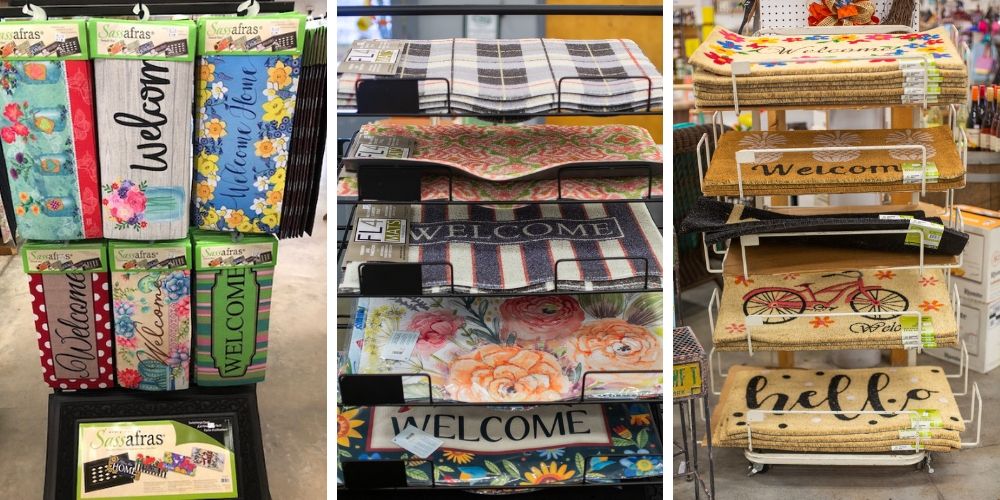 5. THE FINAL TOUCHES: DECOR
These final touches are the cherry on top to any front door styling. Every house is different so what might work well for you can vary based on your house design. No matter where you live though, everyone can use potted plants out front! Whether you have room for one pretty pot on your front door stoop or a row of pots all the way down your steps, potted plants create a homey welcome for any home. We have pots in all shapes and sizes to meet every need. Our big bean pot planters are a popular item and would create a big statement with a huge floral arrangement cascading over the side. Try grouping varying sizes and colors of pots together to create more interest. Look for height in your planters to create more dimension to your front porch or use end tables to elevate your pots and spread them around your space. Look for galvanized planters for a rustic farmhouse look and to make your flowers pop!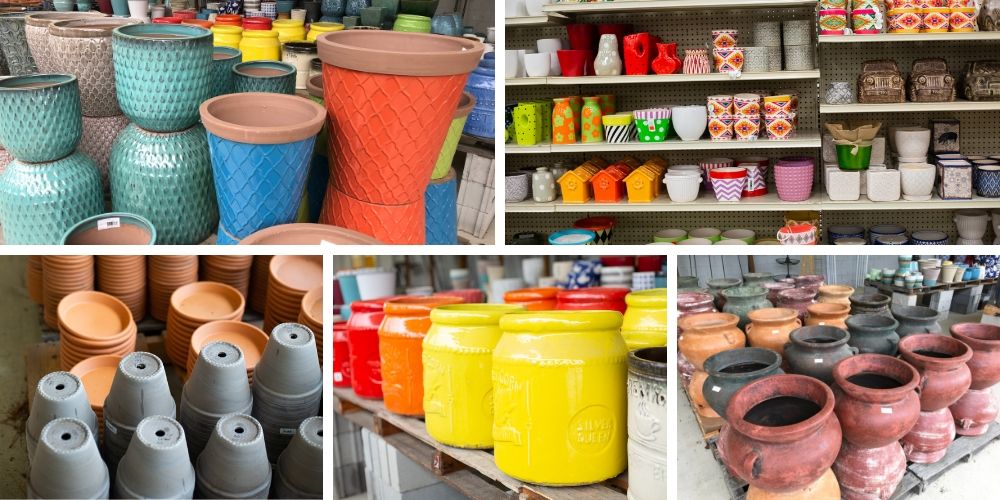 Have a big front porch and want to take it a step further? Dress it up with lamps, signs, outdoor rugs, vases, and mirrors! Add dimension with an outdoor runner or a soft night glow with a small side lamp. Create an "outdoor living room" when you hang mirrors and signs behind your wicker loveseat to create a cozier vibe.
With as busy as life is, your front porch shouldn't be something that consumes too much of your energy! Have fun with your designs but keep it simple! These 5 tips are perfect for a quick 30 min run to
one of our stores
where you know you'll leave with everything you need for a fresh affordable look!