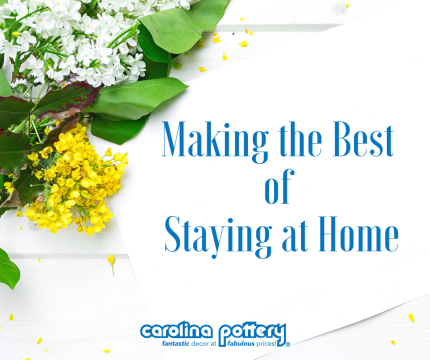 Making the Best of Staying at Home
We're all feeling the effects of our current situation. Suddenly our daily routine is upended, there are more people under the same roof, and we may be going a little stir crazy at this point. If anxiety and close quarters are getting to you, we've put together some ways to beat the cabin fever! If we all have to be at home, we might as well make our homes beautiful!

Identify the Main Gathering Area
If your entire family is spending their time together in one specific area, whether it be the living room, a den, or even a kitchen table, determine what that space is, and make it your focus. Find fresh new pillows for the couch that reflect the gorgeous spring weather outside! Pick up some
LED twinkle lights
to hang around your windows or the TV in your den to give it a special glow in the evenings. If your family tends to congregate in the kitchen, pick up some table top decor and make a new centerpiece with bright florals, or some cheerful spring towels and placemats to make all those extra meals you're sharing that much more special.

Create a space for yourself
Make sure each person has their own designated space to retreat to. If you're limited to the home, the grocery store, and maybe the back yard, everyone will have their own breaking point, and possibly at the same time depending on the day! Give each member of your household a special designated place to retreat to for getting away from everyone else. If that space is a bedroom, try finding some faux greenery pots or arrangements to set on a bedside table, and pick up an accent chair to curl up in and read a while. Find little inspirational signs to lift your spirits. You'll find even just a few minutes to yourself will help with the effects of sharing close quarters!


Expand your living space

If your seating and living space in the house is limited, but you have space outside, consider creating an outdoor living space with our outdoor furniture! Our
polywood furniture
in cheerful colors can instantly make your day better and give you a relaxing place to unwind after working from home and putting the kids to bed. Pick out some colorful outdoor cushions to match, and you'll be able to watch the sunset or your kids play in the yard in comfort. The ball fields and outdoor activities may be closed or canceled, but you can still get outside and enjoy the longer and warmer days this spring!

Dress up your workspace
Many of us are working from home these days and that means we have a new area of our house that needs to be carved out or repurposed. Whether it's an entire room, or a corner of your bedroom or living room, we've got lamps, organization carts and shelves, and containers to keep your office space in working order! Set out a few framed photos of family, or place a small faux succulent arrangement on your desk to keep you motivated. Those office restrictions on decorating your workspace no longer apply so go crazy! Maybe put out a floor cushion for your furry friend to hang out in the room with you while you work. Anything goes!
We hope these ideas inspire you to make the best of things and find new ways to create gorgeous living spaces while you're stuck at home! Remember, our
outdoor furniture
is all available online for purchase and is FREE to ship over $100. We are currently posting items usually only found in stores for purchase in our
Virtual Shopping page
, and we've made Easter and Mother's Day shopping a breeze by offering
Gift Cards
for purchase online as well! Select store locations are still open for business and if you're well, we hope you'll continue to shop with us as you're able! Check out our
store locations
and our
COVID-19 page
here for any updates on operating hours and when our closed store(s) reopen. We hope you stay healthy and happy in the days ahead, and as always, Happy Decorating!