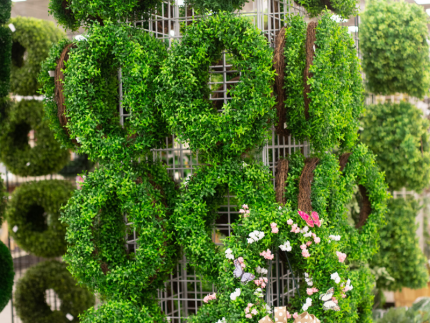 What's Hot: Boxwood Greenery
This time of year can be difficult when it comes to decorating your home. After the glitz and sparkle of Christmas, and before the beauty of a green and colorful spring, winter means our homes may feel a little drab and boring, but we've got a fix for that! Boxwood items are the perfect way to add a touch of natural color in any space in your home. Here are just a few ideas of how to use boxwood plants not only through the winter, but all year long!

Photo Credit 3rd image: Hello Wreath @southerncottagedecor
Wreaths
A simple box wood wreath is the perfect way to greet guests, or welcome yourself home after a long day. They look great on any color door, and you can add a simple burlap buffalo check bow or leave them plain for a timeless look. Their full branches allow easy placement of flowers or picks in seasonal themes!

Faux plants and topiaries
Give your any place in your home a touch of green with boxwood topiaries! We love how they look strategically placed on a table top, or even in the corner of a room with a larger plant. Of course, you can find fresh ones at your local nursery, but if you're not someone who can boast of having a green thumb, that's okay! We carry many realistic boxwoods at Carolina Pottery in various sizes and shapes.

NEW Toppers!
We're excited about this new trend in interior decorating, and we are pretty sure you will want to try this yourself! Boxwood toppers are a half-sphere of faux greenery with a plastic bottom underneath. They can be placed on top of large candle-holders, or on top of a small round container to make it look like an arrangement! This means NO hot glue or inserting picks or bushes into a floral styrofoam. The boxwood toppers can be swapped out for other items depending on the season or your mood!
We can't wait to see what you find at Carolina Pottery and how you incorporate olive branches into your home! Snap a picture of your most recent floral finds and tag it on social media with the hashtag #carolinapottery or #thepottery, and we'll share it for everyone to see! Happy Decorating!