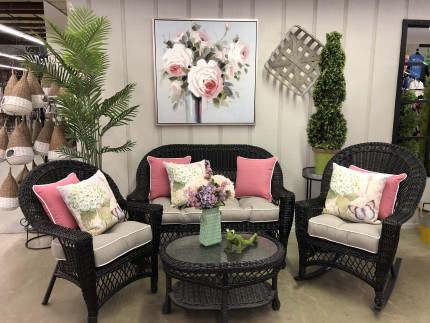 We're Not A Pottery Store
Nope, we're not a pottery store. Are you shocked??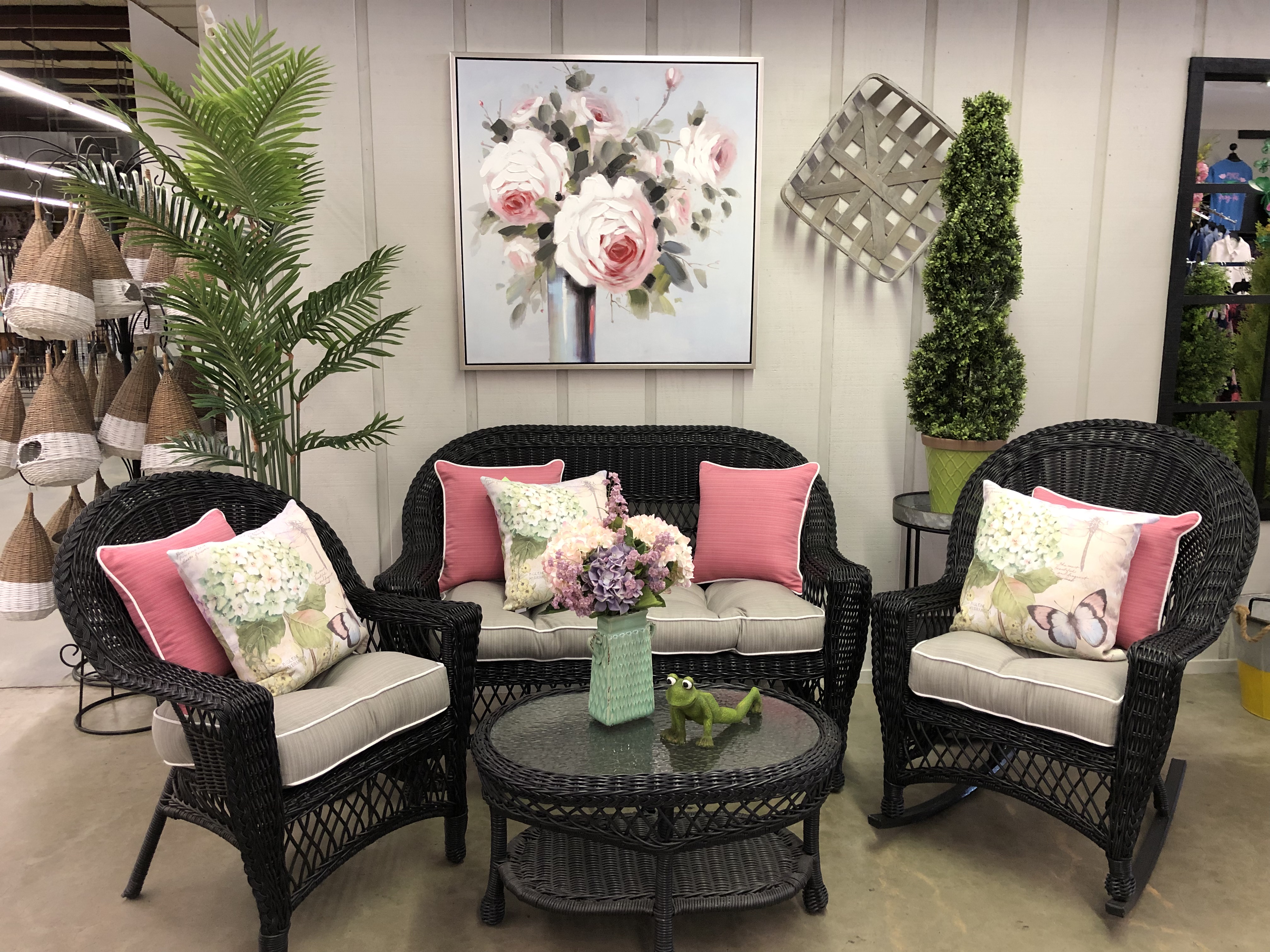 We know, it's confusing. Our name is Carolina Pottery after all! We often get messages confused about the products we sell. When people hear "pottery" they automatically think clay, pottery wheel, kiln, and ornate regional designs. Unfortunately, that's not us!
We thought we'd clear up this misconception a bit! Especially for our customers who aren't southern natives, the idea of a multi-department shop under a "pottery" name could be a foreign idea. Just like Pottery Barn doesn't sell pottery in a barn and Target isn't a dart board shop, we're also so much more than just pottery!
Back in the 70's & 80's the pottery store model became very popular and somewhat of a southern staple. Each store was stocked with outdoor furnishings, home decor, craft supplies, and floral items. They were known for their affordable prices, huge selection, and warehouse style set up. These stores were often off of major interstates or in beach towns making them a destination spot for those traveling. When you ask a North Carolinian or South Carolinian if they've ever shopped at Carolina Pottery, many times they have childhood memories attached to shopping at one of our stores!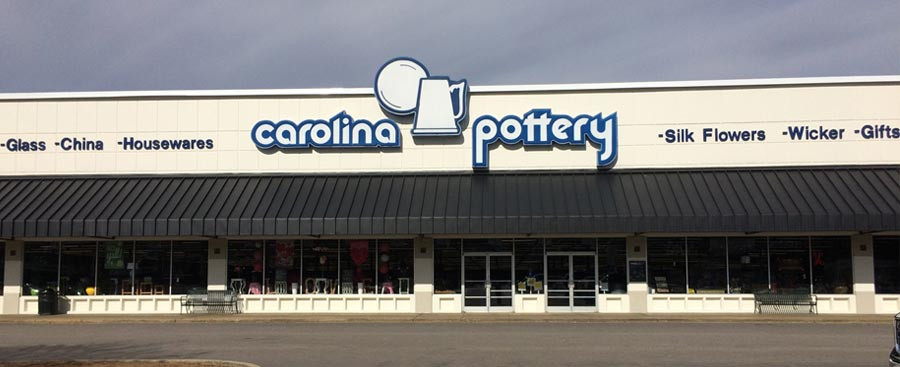 While the idea of a pottery isn't as popular as it once was, we've stuck to our roots and continue to provide a wide variety of merchandise to our customers! We actually do have pottery...and ceramics, however our emphasis is on outdoor furnishings, home decor, and floral items. Our departments and products include (but are not limited to):
wicker: wicker sets, armchairs, rockers, ottomans, coffee tables, end tables
outdoor furniture: Adirondacks, fire pits, hammocks, umbrellas, patio sets, bistro sets
outdoor pillows and cushions (custom cushions too!)
indoor and outdoor rugs
outdoor decor: flags, garden flags, flag stands & poles, mailbox covers, doormats, lanterns, birdhouses, birdbaths, pots, planters
floral & cemetery: stems & bushes, floral arrangements, greenery, cemetery memorials & saddles
wreaths: premade wreaths, custom wreaths, cotton wreaths, magnolia wreaths, boxwood wreaths, grapevine wreaths, wreath forms
floral & craft supplies: ribbon, mesh, paint, paintbrushes, wood craft items, mesh tubing, chalkboard signs, vase fillers
accent furniture: chairs, bar carts, tables, stools, end tables, ottomans
indoor decor: pillows, signs, mirrors, clocks, canvas art, figurines, baskets, candlesticks, candles, LED candles, vases, ceramics, lamps
storage options: bathroom & kitchen organizers, decorative wall shelves, containers
linens: napkins, placemats, tablecloths, towels
kitchenware: bakeware, cookware, glassware sets, beer mugs, wine glasses, coffee mugs, kitchen gadgets, cake stands, pots & pans, jars, canisters, ice buckets, tumblers, koozies, trays, cutting boards
gift items: cards, Simply Southern T-shirts, bags, jewelry, flip flops, collegiate items, hats, scarves, soaps, sachets
Christmas decor: Christmas trees, ornaments, string lights, picks, figurines, garland, red bow wreaths, light up decor, gift options, bows, tree toppers
Seasonal & Holiday decor: Easter decor, Valentine's Day decor, St. Patrick's Day decor, 4th of July decor, Halloween Decor
...and so much more! Yep, it's a lot but our stores are BIG!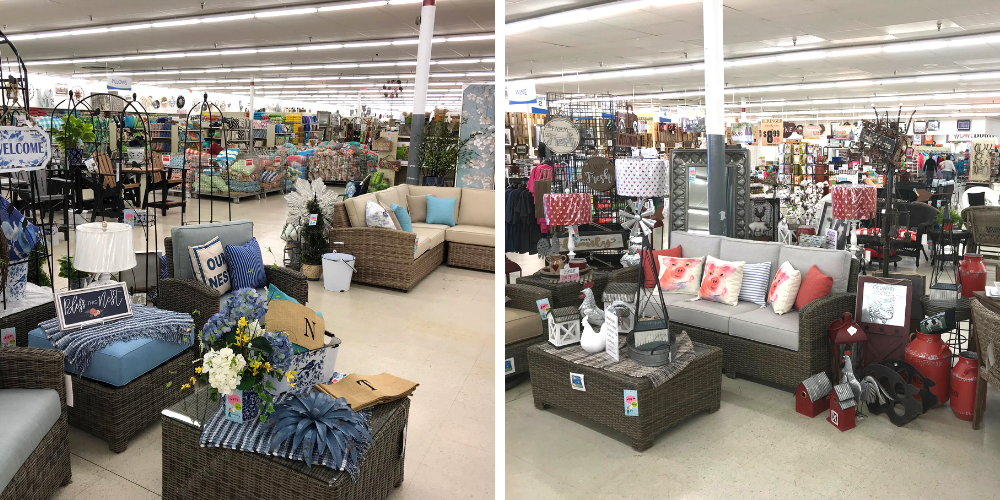 We're always getting in new items and switching out products for new seasons and holidays. We're the one-stop shop for anyone who loves decorating and crafting! We keep up with popular styles and trends so you can come in and see the items you love and create the look you want right in your own home. Plus, we host workshops and demonstrations so you can create the wreaths you see us make! Oh yes, that's right, we even make our OWN wreaths! You can shop our selection of wreaths that we've made or order a custom design!
So nope, no clay and kilns at our store! We hope this helped clear it up a bit! With all we have to offer, we hope you'll pop in and say hey! Don't know which of our stores is closest to you?
Click here!