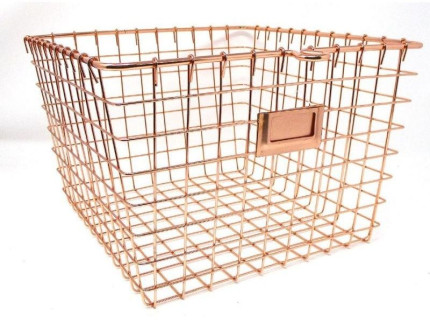 Three Ways To Use Baskets and Bins in Your Kitchen

A lot of us have decided to be more organized for the new year, and one of the most disorganized places in the house is often our most-used space! The kitchen. It might seem like an insurmountable task to tame the mountains of plastic containers, or to find your pantry staples for cooking dinner, but we hope these tips make the planning stage a little bit easier!
1. Store your Dry Food in Easy to find Food-safe Bins
Chances are after you get home from the grocery store, your staples of onions, potatoes, and dry goods are piled on the floor, or stuffed on to shelves wherever you can find an empty (or not so empty!) place in a cupboard or pantry. Contain the chaos with some metal or plastic food-safe baskets or bins that are easy to see through for produce and consider investing in some well-sealed food storage containers that will keep food fresh longer, and help you avoid buying things you don't need! You'll cut down on food waste AND stress when everything has a place and is easily visible.
Chances are snack consumption has gone up in your home during 2020. The number of people in your home plus the keeping snacks tucked away in the pantry means you may run out of something before you know it's getting low, and forget to pick up that item in your next grocery pick-up run! Never forget to restock again by creating a snack station for easy access to everyone in the home! Keeping it out in the open with a designated snack-basket makes taking quick stock of your fruit snack supply will be easy, and you can add goldfish and protein bars to your cart before they're gone! Since most snack packaging is pre-packaged individually you can get more creative with the style and feel of your containers and baskets. Use low-sided, or shallow baskets to line up snack bars and packets of applesauce or give chip bags a place to stand up and easily browse through when hunger strikes. When snack time is over, just remove the baskets from their day-time location and tuck them away in your pantry out out temptation, to be brought back out the next day!
3. Under cabinet organization
The plastic container problem is, well… a problem. Chances are you're missing lids, or the container to go with them, and nothing seems to match up for storing leftovers or food that once opened, needs to be kept air-tight. This requires a little more work, but it's worth it! First, pull out EVERY SINGLE plastic-made item from your cabinets and get sorting! It's a lot like sock-sorting, but if you've got some music or a good tv show playing in the background while you work, things will go faster! Then, sort your remaining (matched!) pieces in baskets you've purchased specifically for this purpose. Resist the urge to store plastics IN other plastic containers! You'll be more likely to return your items to something you've bought to house the containers, than to use the largest piece of Tupperware that you may actually need for storing food at some point!
You'll find containers and baskets perfect for these kitchen organization ideas at our stores or in our
online store
! Getting started is the hardest part, but you'll have your kitchen in perfect working order once you've started, so don't procrastinate! Don't forget to join our
lifestyle club
to see more ideas on keeping your home organized and up-to date in the current style trends for 2021! Happy Decorating!