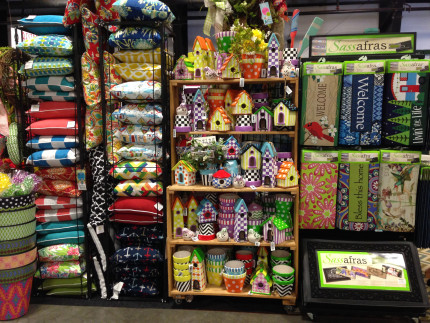 Spring Front Porch Makeovers!
Spring is right around the corner and that means it's time to freshen up your front porch! It is time to break out the broom, sweep away the winter blues, and bring out the colorful accents! What is the first thing that needs to go? Your dull winter wreath-you know, the one with the pine and red cardinal. That bird needs to fly away and let the butterflies swarm in. Grab that beautiful spring grapevine with the bright colors, ribbons and flowers. Hang that on your front door and the sun already looks brighter. Next, it's time to change out the drab cushions on your porch furniture. Do you have a stunning wicker set? If not, come into any one of Carolina Pottery's five locations or shop online! Once you have the perfect set of outdoor furniture, selecting the cushions is the fun part! For spring, you want color, color, color! At Carolina Pottery, we have striped cushions, solid colors and lots of prints. Try pairing a printed pillow with a solid colored pillow. Or better yet, be bold and select two different patterns. The possibilities are limitless!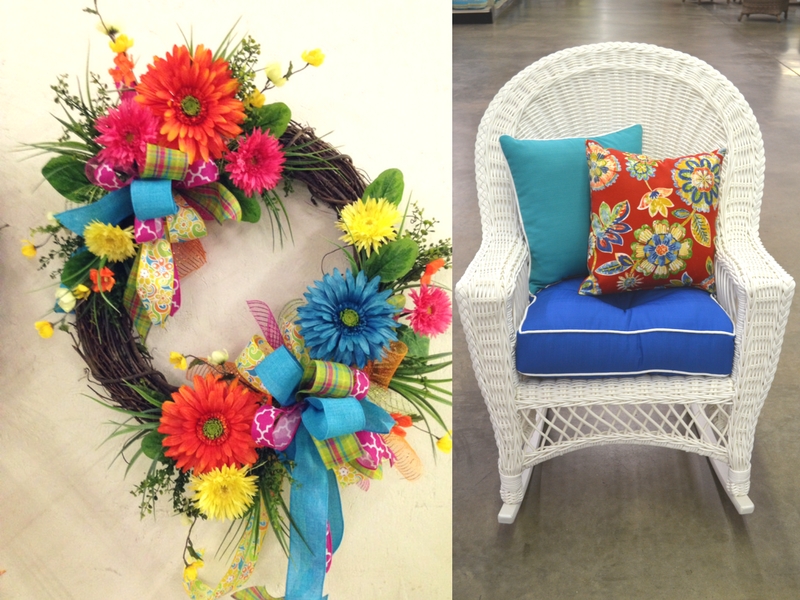 Once you have your spring grapevine wreath and your wicker set with cushions and pillows, it is time for the decorative accents. Why not frame your front door with two gorgeous topiaries in glazed ceramic pots? Add a strand of lights to each and at night, imagine the lights are fireflies flying around the porch. Don't forget to have your ferns hanging from the porch and add a few knick-knacks on the coffee table. Try our Mirage candles that are battery-operated but flicker like a real candle. You never have to worry about them going out with the gentle breeze. Wind chimes are a wonderful addition to any porch. They add a soft melodic background sound to the wonderful conversations you have on the porch with your friends. There is no better way to spend a sunny spring afternoon than with friends! And yes, it's okay that they keep asking you, "Where did you buy that? Where did you find that cute item?" Just tell them, "Carolina Pottery! There is so much to find there at great prices!" We don't mind!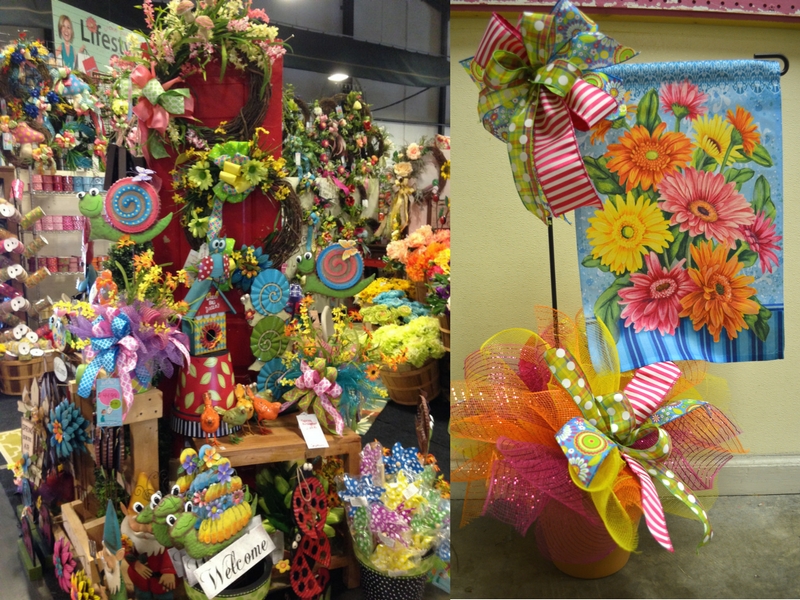 When decorating your front porch for spring. You can't forget about the overall appearance of the front of your house. You want your guests to feel welcomed the minute they pull up to your house. Add a mailbox wrap to your mailbox and bring a smile to your guests and your post person. Then right beside your porch, add a matching garden flag. As your guests are in awe of your beautiful porch season redo, they will laugh at the fact that you are so coordinated that even your doormat matches your mailbox wrap and garden flag! That's right! At Carolina Pottery, we have matching sets of doormats, garden flags and mailbox wraps.
Now that the last of the snowflakes have been swept away and the colors of spring have arrived, it is time to sit back and relax in your wicker rocker, pour the sweet tea, enjoy the sounds and ambiance on your newly redecorated spring front porch!