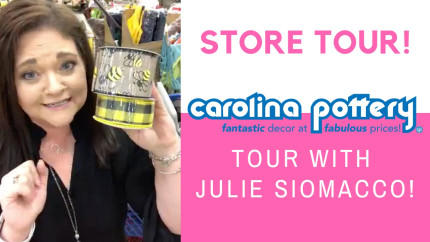 Southern Charm Wreaths - Store Tour of Carolina Pottery
Join our Carolina Pottery tour with Julie Siomacco of Southern Charm Wreaths! She's a fellow "ribbon addict" and crafter! Follow along as she shares some of her favorite items and gives you a peek at the store!
RIBBON:

Julie shares her favorite ribbon selections including trendy navy designs, versatile red options, spring florals and patterns, year-round burlap styles, bumble bees prints, and farmhouse selections! Carolina Pottery carries ribbon in a all different size, prints, and colors.
MESH:

Moving on to mesh, Julie shares how you can use burlap mesh for every season! Burlap is the perfect base to add other colors to any holiday. For example: get a patriotic wreath by adding red and blue ribbon to a burlap mesh base. Our mesh comes in 10in and 21in rolls. You can shop mesh in any color with multiple variations, including plaid and metallic styles.
FLORALS:

Get a glimpse of our stems. It's the season for cherry blossoms and you don't want to pass ours up! Julie shows you how to look for the perfect stems when you shop. Quick tip: make sure you can divide the stems up so you can easily use them for your floral designs. Looking for life-like greenery? We have rows and rows for you to browse. Lastly, don't forget filler flowers! While the filler flowers can be harder to find, Carolina Pottery has a HUGE selection for you to choose from. Get multiple stems from one bush! Now THAT's value!
LANTERNS:

Think outside the box with your floral arrangements. Use lanterns in any style for a beautiful design. Grab a galvanized lantern for a farmhouse look and add your design inside trailing down or on top of the lantern. Use spring blooms, a bird's nest, or patriotic colors to mix it up for every season.
STYROFOAM:

If you work with florals, you know good styrofoam can be hard to come by. Carolina Pottery carries quality options that can be mixed up or cut up to fit your needs. Get creative with our styrofoam wreath forms! Cover them with ribbon and use hot glue to attach your flowers for a simple, easy, and beautiful design! Styrofoam for memorial saddles and arrangements is also in stock so you can create your own arrangement for your loved ones.
WREATHS:

Grab our already-done-for-you wreath forms so you can get straight to the fun part: designing. Browse our selection of clean (no leaves attached) grapevine wreaths and don't forget to check out our painted grapevine wreath options! Our grapevine come in all shapes including: circles, ovals, rectangles, and even basket designs. Our boxwood wreaths are a great way to save time on your designs. Just add some flowers to your pre-made wreath and you're set!
STORE TOUR:

Lastly, Julie gives you a tour of part of our West Columbia store location. See for yourself our huge floral department! Items include, but are not limited to: ribbon, mesh, tobacco baskets, grapevine baskets, work wreaths, straw wreaths, greenery, tea leaf wreaths, cedar wreaths, cotton wreaths, pre-made forsythia, seasonal picks, lanterns, galvanized buckets, fun containers, and florals as far as your eye can see!
We hope you enjoyed our tour! If you missed it LIVE, make sure to "like" us on Facebook so you can get updates on our next live video!

Don't forget to sign up for our LIFESTYLE CLUB to receive information on features, sales, and coupons! Plus you can shop a selection of items online! We're always working to add more online options: CLICK HERE TO SHOP ONLINE!