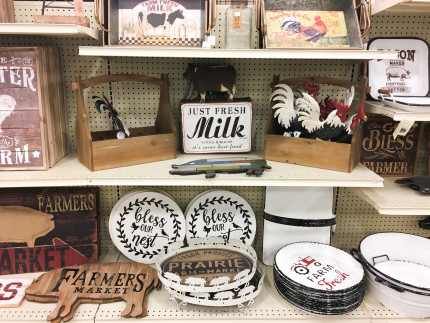 Rustic Kitchen Decor
At Carolina Pottery we try to keep our finger on the pulse of home decor trends as much as possible, and one of the things that will be making a big mark in home decor this year is Rustic Kitchen decor items. Thanks to the farmhouse modern decorating trend, kitchens are getting makeovers in simple but relaxed and welcoming ways incorporating items long forgotten but now gaining popularity!

Dough bowls
This every day kitchen tool of yesteryear is a huge decor item in the farmhouse decor style. They can be filled with grapevine balls, ceramic spheres, or a centerpiece of silk florals. They work very well on side tables and console tables, or in the middle of a dining room table as part of a centerpiece. Their versatility makes them so attractive that you may find yourself purchasing a few to place around your home and swap out their decor for each season! We love the idea of having on on a counter in your kitchen to gather fresh apples and other produce, or on an island with cleaning or cooking tools stored in it.

Wooden containers and Cutting Boards
Cutting boards are so versatile! They can be used to serve food, cut up veggies for your meal, or even just hang on the backsplash of your kitchen as decoration! We carry a great selection of wooden cutting boards perfect for your home, or even a hostess gift!
If you're like us, you know that wooden containers and boxes are addicting. Once you find one you really love that just works so well in a space you could jump for joy, you'll find yourself constantly on the lookout for just one more box! They can be filled with cooking tools or used as a place to catch keys and other items when you walk in the door. If your kitchen ends up being a homework spot you can keep paper and pencils and other school supplies stocked and ready for kids to grab what they need at the end of the school day to knock out those math problems! You'll find endless uses for our wooden containers!
Cast iron items
There's nothing more rustic than a cast iron item that was handed down through the family. Maybe it's a skillet, or a baking pan, or even an old iron. Finding these items in thrift stores can be hard, especially when you want to find one in good enough condition to use them in your cooking. We carry a wide variety of new cast iron items that are ready to use as soon as you get home, and they can be used as part of your kitchen décor when you aren't using them! Just hang on a wall or place on an open cabinet or shelf above your counter space and enjoy the reliability and style of cast iron!

Farmhouse Decor
We have a huge selection of farmhouse themed decor. From metal containers and signs, to farm fans, animal motif signs, and trays, we've got you covered if you're looking for something to give your kitchen the farmhouse touch. Signs make a great addition to back splashes and sides of cabinets that you just aren't sure what to do with. Tiered trays are great for displaying fruit and other things you want at hand for your culinary pursuits.
The rustic look is something that will continue in popularity through the rest of 2020 and it's so easy to put together we're sure it will stick around much longer than that! We can't wait to see your rustic kitchen looks put together with our items! Snap a picture and post it on social media with the hashtag #thepottery and we'll share it so everyone else can see! Happy Decorating!