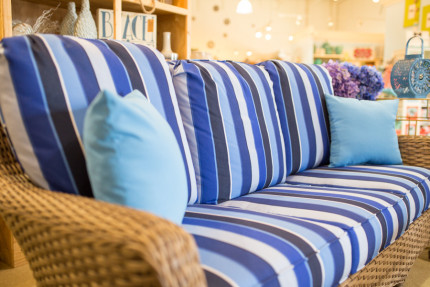 Spruce Up That Outdoor Furniture: Replace Your Cushions!
Get a fresh view with new outdoor seat cushions.
If you want to refresh your outdoor furniture, replacing the cushions is one of the best ways to update, according to home improvement guru Bob Vila. Even if your old chair pads are weatherized, long days in the sun begin to fade bright colors and dry out fabrics, making your outdoor home decor look dowdy. You might even opt to swap out newer cushions to keep current with trending colors and patterns. Be sure to have your exact measurements in hand when shopping for new outdoor cushions so that they fit nicely and enhance your whole home decor vibe.
Measuring Dos and Don'ts
If you like the way your existing seat cushions fit the frames of your outdoor chairs, benches and lounges, you can use the same measurements for your new cushions. Make sure you:
Lay the cushion flat on a hard surface.
Use a tape measure for accuracy.
Make sketches of non-standard outlines, such as rounded tops.
Specify which chair each cushion fits for your own future reference.
When you are measuring for replacement cushions, you should avoid:

Using a ruler or tape that won't do the job in a single swoop
Measuring the cushions on the chairs, since they may be scrunched up or squished
Rushing through without double checking each of your measurements
What to Look For in Replacement Cushions
When you find cushions you like, the first thing to verify is that they are waterproof or water resistant. Weatherized fabrics not only repel water but also protect your new cushions from mold, mildew and stains. Sure, you could purchase untreated cushions and apply one of the waterproofing products on the market, but there is really no need to make a one-step purchase a two or three-step process.

Additionally, be sure your new outdoor furniture pads contain high-quality filling that resists compression yet provides a comfortable seat. Test it out yourself at the store, or if you are shopping online, research the padding material to see if it meets your expectations.

Some of the design variations you'll come across in outdoor cushions help redefine your existing furnishings. For example, tufted armchair cushions add a sophisticated, tailored look, while the clean edge of a boxed seat cushion can add a modern feel to your space.

Where to Find Replacement Cushions