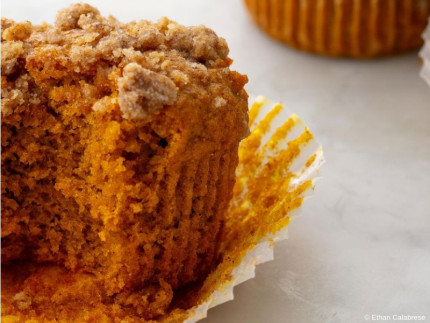 Pumpkin Spice Muffins
Fall is fast approaching! The stores and coffee shops are all starting to show signs of pumpkin spice fever. And here at Carolina Pottery, we couldn't be more excited! We stumbled across this delicious recipe from the folks at Delish, and couldn't wait to share it with y'all. And don't forget, you can find all your baking pans, bowls, spatulas and spoons to help make all your favorite fall treats.
Pumpkin Spice Muffins by: Delish Editors
yields: 15 muffins
Prep Time: 5 mins
Total Time: 30 Mins
STREUSEL TOPPING
1/2 c. all-purpose flour
4 tbsp.butter, melted
1 tsp. pumpkinpie spice
1/4 c. granulated sugar
1/4 c. dark brown sugar
Pinch kosher salt
MUFFINS
1 1/2 c. all-purpose flour
3/4 c. granulated sugar
1 tsp. baking powder
1/2 tsp. baking soda
1/2 tsp. kosher salt
1 tsp. cinnamon
2 tsp. pumpkin pie spice
1 c. canned pumpkin
2 large eggs
6 tbsp. butter, melted and cooled
1/4 sour cream
1 tbsp. pure vanilla extract
DIRECTIONS
Preheat oven to 350° and line muffin tin with liners.
Make crumb topping: In a medium bowl, combine flour, sugars, pumpkin pie spice, and salt. Stir in melted butter until crumbs form.
In a large bowl, whisk together flour, sugar, baking powder, baking soda, salt, cinnamon, and pumpkin pie spice. Add pumpkin, eggs, butter, sour cream, and vanilla, and mix until combined.
Divide batter into muffin liners. Top each with crumb topping.
Bake until muffins are golden brown and a toothpick comes out clean, about 25 minutes. Let muffins cool in pan, then serve.
https://www.delish.com/cooking/recipe-ideas/a21960637/pumpkin-spice-muffins/