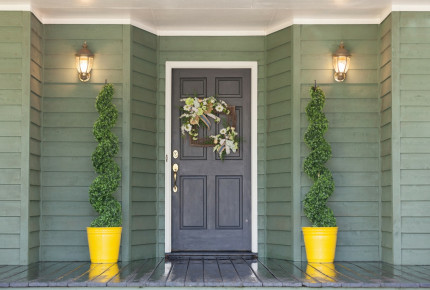 Preparing to Decorate for Spring
Spring is on the horizon, so make sure your home decor rises to the occasion. From the living room to the patio, fill your home with color for a fresh new perspective. Spring 2017 decorating trends are fun and affordable, so get on board with these spring decorating ideas from Carolina Pottery.

Relaxing With The Windows Down
Nothing refreshes the spirit like a good spring cleaning and a decorating refresh. Recharge your soul and reward yourself for a job well done by creating a sweet reading nook near a window this spring. Carve out a corner in your home dedicated to "me" time. Pair up a comfy reclining wicker chair and end table. Stock a wall shelf with your current lineup of page-turners, and add some greenery in the form of a topiary. Add splashes of this spring's brighter-than-usual pastels in the form of throw pillows and painted picture frames. Then open that window, and enjoy a cool breeze while you get lost in your next adventure.
Green With Spring
The outdoors will be bursting with green, and so should your home! Adding plants and greenery to the inside of your home is not just attractive, they help keep the air fresher, and are proven elevate the mood.
Potted plants are easy to pick up, and if you keep them watered and lighted will add lovely natural ambiance to your living space. A tabletop terrarium lets you celebrate the outdoors before the first buds have hit the trees, and can be a great way to combine many plants into one space. Some plants even clean the air for a healthier home, so consider placing several on your walls atop staggered shelves. Vinyl plants look especially fresh this season, so if you haven't got time to care for a real plant, an attractive fake can still benefit the look of your space.
Comfortable Furniture Inside & Outside

Once you've got the inside of your home decorated and ready for spring, make sure you have the comfortable outdoor furniture for when the weather warms up. Vintage looks and natural materials are big for outdoor furniture right now. Carry the wicker theme onto your patio or deck to stay on-trend with spring decorating trends for your outdoor spaces. Or freshen up your backyard with some brightly colored retro furniture -- think Adirondack chairs or mid-century-inspired pieces. Welcome guests by tacking a cheery sign onto a back door or outer wall.
When it all comes together
As you patiently wait for spring, get your home in ship shape before the first flowers bloom with help from Carolina Pottery. Whether you're starting your spring cleaning or have already begun updating your indoor and outdoor living spaces, we want to help with your spring decorating needs. Find everything from
craft supplies
to outdoor rugs at our
stores
in NC and SC or on our website. Contact us with any questions you may have!