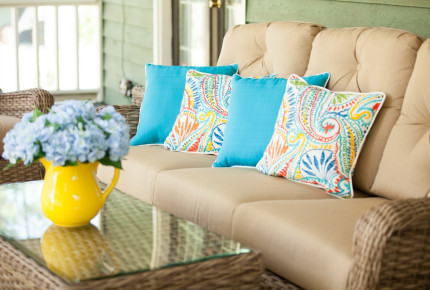 How To Pick Out The Right Outdoor Furniture
Comfortable natural surroundings make decks and patios more enjoyable, but you'd be surprised at how important decor is. Your deck may open onto a sweeping vista of an idyllic coastline or mountain peak, but you'll never be able to appreciate the view if you're unhappy with your exterior design and furniture. Here's how to do outdoor furniture right and create a space that people enjoy occupying.

Know Your Weather
Whether your home is subjected to torrential spring downpours or blistering sun in the summer; your outdoor furnishings needs to be able to withstand whatever mother nature throws your way. Picking options that incorporate waterproof, UV-resistant materials is just smart investing. All-weather wicker furniture is extremely versatile in many types of weather as water does not collect on the wicker frames, and the resin frames mean you won't have to worry about fading, cracking, or refinishing. Additionally, you can accent wicker furniture with cushions made with durable weather-resistant fabrics so that no matter the season; your furniture is always in style!

Know Your Guests
Is your patio furniture regularly going to accommodate your extended family or coworkers, or are you building a private refuge for a few close intimate friends? Understanding how you'll typically use your patio furniture is critical to ensuring that others like it as much as you do.

Letting people choose freely is always a smart design decision. Spice things up by exchanging a few regular chairs for movable ottomans, stylish Adirondack furniture, or high-backed rockers. Throw a love seat into the mix to create a friendlier atmosphere.

Giving people options can reduce your stress because you don't have to choose the perfect arrangement. With multiple smaller furniture pieces, people can move and rearrange themselves as the mood dictates, which is always a plus at social gatherings.

Bring Nature Closer
One aspect of exterior decor that many people overlook is the need to incorporate natural influences in their designs. You've spent hours on the manicured backyard your guests are admiring, and the right framing with bring the whole space together. Add planters and similar patio furniture to reinforce the naturalistic undertones in distinctly intentional ways.

For instance, some designers recommend using sizable planters to create open boundaries and define the relationship between adjacent spaces. More than mere bookends for your couches and other deck furniture, large planters and pots direct foot traffic effectively and supply guests with subtle cues about how to maneuver through the spaces that you provide.

Commit to Whatever Scheme You Choose
Designing your outdoor furniture around natural themes can also help you decide on an overall feeling. Choosing pots and ornamentals that blend with your furniture, cushions, and pillows will create a uniform, harmonious tone.

Don't be afraid to buy individual furniture pieces instead of one matching set. Look for design similarities, like materials and main colors which you can use to match unique functional elements for an aesthetically appealing result.


Want to discover more of the secrets to redefining your spaces? Check out Carolina Pottery's extensive collection of outdoor (and indoor) decorating and furnishings.