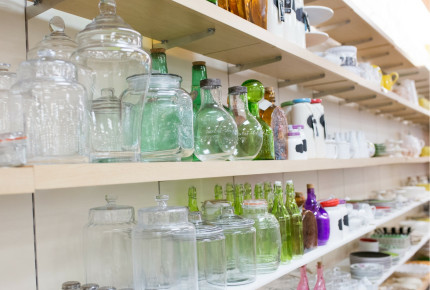 It's Time to Update Your Kitchen
Upgrade your cookware, accessories and storage for better cooking and eating.
Your kitchen is the heart of your home. You cook family dinners, whip up impromptu snacks, prepare to entertain, and sometimes just chat over a cup of coffee. Give this vital room the attention it deserves with a simple, budget-friendly kitchen refresh.


Better Tools for Better Food

You don't have to invest in a full-fledged makeover to give your kitchen new life. Investing in the right tools for each cooking task can give mealtime a quick, easy boost. Step up your baking game with mini baking pans. These little gems let you give perfectly sized gifts of banana or zucchini bread. You can also scale down your favorite bread recipe for one or two people.

A state-of-the-art pizza pan will help you achieve the perfect pie, and quality cast-iron cookware is the key to create grandmother-worthy dishes. Keep baked goods fresh for longer with counter-top bread storage containers, and upgrade stir-fries and eggs with skillet sets for a variety of purposes.

Get it in Order

Getting organized is all about the details. Keeping counters tidy and maximizing storage space can help you fully enjoy your time in the kitchen. Less time spent looking for a cutting board or digging for the spatula means more time to perfect and savor your creations.

Cute canisters allow you to store everything from flour to teabags in style. Compact lunch containers let you prepare lunches the night before and neatly stash them in the fridge for easier mornings. Go a step further with storage-container collections to keep your refrigerator neat and food items visible. Once you have your new kitchen helpers in place, experiment to find the right arrangement for an easy workflow.

Color Your World

Who said kitchen tools had to be boring? Add a little color to your kitchen decor with spatulas, spoons and other gadgets in bright colors. This is an easy, affordable way to perk up a neutral color scheme. You can even coordinate your cooking gear with measuring cups and measuring spoons in the same set of colors. Or go all the way with an entire collection of accessories in the same group of primary colors. Consider displaying a rainbow of dishes on open shelving.

Give your kitchen a new look and feel with these simple, affordable upgrades. You'll get more joy from cooking and serving, and your daily routine will become so much easier. Find everything you need to launch your kitchen 2.0 at Carolina Pottery.