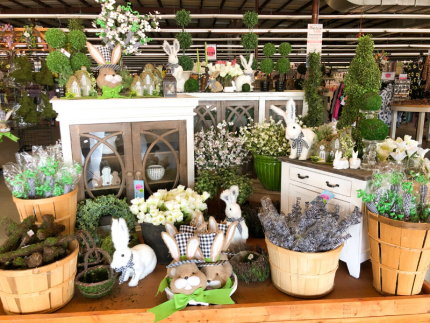 It's Spring at #Thepottery!
It's spring at Carolina Pottery and we're excited about color and fresh warm breezes returning to the South! We've stocked out stores full of gorgeous home and outdoor décor to help you give a fresh look to your home and yard this season. Keep scrolling to see what's new!

Garden Items
If you're the gardening type and love to have a decorated yard as well as home interior, you'll LOVE what we've gathered from all over under one roof to give a pop of color to your porch or backyard! If you're a bird lover, we have bird baths to attract your favorite feathered friends, and bird-motif metal decor to add a splash of color to your front door or even a fence!


Table Top Decor
Some of you may share a weakness for table top décor, and if that's so, we've got you covered! Bunnies, bottles, blooms, you name it! This year lemon themed décor is hot, and we've found so many fresh and cheerful lemon items including grapevine decor that can be incorporated into a wreath or door hanger! Don't forget to pick up a couple of small table top topiaries to decorate your console table with! These can be displayed all year if you choose, and there are endless options of places to display them all over the home, even your kitchen counters!

Easter
The Easter Bunny is on his way, and we've got adorable décor to make him feel right at home! Little cotton tailed friends are perfect for placing on a mantel or as part of a centerpiece for Easter Lunch, and our floral department is overflowing with Lillies and other spring flowers to create a gorgeous Easter arrangement. Short on time? We have a huge selection of premade wreaths and arrangements to pick up for your family egg hunts and gatherings this spring!

Bugs and bees
Who doesn't love seeing a bright red lady bug crawling around their yard in the spring? If you'd like to bring that pop of red into the home, but let the bugs stay outside where they belong, come find an adorable metal lady bug or sign to hang in your screened in porch! For you bee-lovers or bee keepers out there, we have enough honey bee and bumble bee themed signs and pots to cheer up a window sill or add to a new wreath project for spring and summer!

Premade Wreaths
Speaking of wreaths, our wreath classes are carrying over into spring!
Check our schedule
to find out the nearest times and locations for classes through April and May! If you're not the crafty type, but love the look of having a custom wreath on your door, come browse our selection of premade wreaths, or even visit our floral design department to have a custom wreath made just for you! Just pick out the base, ribbon, florals, and any signs or characters you'd like to have, and we'll make it for you!

Florals
We're getting close to wedding season, and with Easter and even Prom right around the corner there's a chance you will need centerpieces, corsages, or even boutonnieres to make special occasions that much more special. Our floral basket are brimming with gorgeous blooms and endless possibilities for whatever you need to make. And just like with wreaths, if you want someone else to put together your arrangement, just pick out the flowers and greenery and we can help create a gorgeous arrangement for Mothers Day, or give you pointers on how to create a bridal bouquet for your special day that will look just as fresh without the worry of keeping it watered!
If you've caught the decorating bug reading this, we hope to see you soon at any of our four store locations, or you can shop select items online as well in our online store! Happy Decorating!