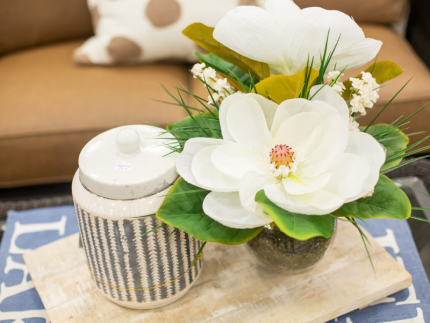 How to Decorate with Florals
We've been thinking about spring almost as soon as Christmas was packed away last year! There's just something about winter that makes us crave color and flowers, so we've put together a list of ideas to make spring come early in your home!


Wallpaper

Whether you live in a rented apartment or your own two-story home, wallpaper is a great way to put a personal touch on your home and the perfect way to add some eye-catching color and florals! Removable wallpaper is a large presence in the interior designer's box of tricks that makes an instant impact as soon as it's installed! Depending on the colors or pattern a floral wallpaper can make a large statement, or act as a subtle background to stronger pieces in the room. It's perfect for making one wall in a room the focus especially in bedrooms or offices. Just find a pattern you love, look up some tutorials on youtube, and you're good to go! We love
searching Pinterest
for ideas on how to choose and install the perfect floral wallpaper!

Textiles
If you aren't brave enough to choose a wallpaper or your style and taste changes on the regular, come see our floral pillows! From water colors to prints, we have a wide selection to get lost in at Carolina Pottery! Try finding some saturated colors to give your couch a pop of color and pair it with some simple stripes or polka dot patterns. You'll find something to go in any space in your home, whether the living room, the den, a bedroom, or even outdoor seating areas in our outdoor cushion line.
Don't forget rugs! An
indoor rug
makes a large impact like wallpaper, but is much easier to install when you have the impulse to redecorate. Our online and in-store selections are kept stocked with a wide range of style for every tase and color palate. Click
HERE
to shop online and fill your cart with color this spring!

Artwork
There's just something soft and relaxing about walking into a room with a few photos or pieces of artwork that feature florals. Botany prints have become popular especially in the farmhouse decor movement where decorators are drawn to their detailed and aged look that gives rooms a curated feel. We love finding watercolor artwork to hang on any wall lacking in color or inspiration, and stock a wide variety of artwork pieces to keep your room looking bright and beautiful!

Arrangements
This may be a no-brainer, but floral arrangements are truly the best way to bring floral inspiration into your home. A faux floral arrangement is the perfect gift for anyone who enjoys the look of a fresh arrangement in their home but doesn't have the time or ability to go out and find a new bouquet each week. Our floral selection is full of gorgeous blooms to combine into a custom arrangement or wreath yourself! If you're short on time and need a last minute centerpiece or house warming gift, come shop our selection of pre-made arrangements made by our in-house floral designers! You'll be able to find something unique and long lasting that will put a smile on your loved one's face for weeks, months, or even years to come! Watch
these tutorials
for ideas on how to create your own arrangements this spring!
Even if you have a tiny budget, a few small additions of a few silk flowers, or one or two pieces of artwork can make a huge difference in a room, and satisfy your craving for color and warm spring breezes until the real thing comes. We can't wait to see what you find at Carolina Pottery and how you incorporate it into your home! Snap a picture of your most recent floral finds and tag it on social media with the hashtag #carolinapottery or #thepottery, and we'll share it for everyone to see! Happy Decorating!