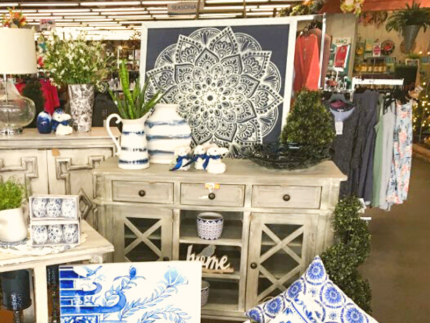 How to Decorate a Console Table
Spring is a perfect time for new beginnings, trying out new styles or freshening up what may be a little tired and drab from the winter. One way to bring the newness of spring inside is redesigning small spaces that impact your mood or daily life in big ways, and decorating a console table is the perfect weekend project! Carolina Pottery carries multiple styles of console tables that vary in size, depth, storage space, and color! If you already have a console table at home that needs a makeover, or you're starting from scratch in revamping your décor style, keep reading! We've put together the ultimate list of items you'll need to make your console table feel inviting, stylish, and functional!

Make sure to measure the space in your home where your NEW Carolina Pottery console table will sit, or measure the one you already have so you know how much space you are working with when finding items to place on top. Pay special attention to the DEPTH of your table, as some are narrower than others, and this will determine the size of lamps, mirrors, and vases, three of the biggest items we suggest placing on top.
Once you've gathered the dimensions visit one of our four store locations and let the fun begin! Let's think of the console table in two categories. Don't worry, we'll keep it simple and just call on category "Top", and the other one "Bottom."
On the Top:
These items are going to get the most attention and while they may seem very ordinary, they will be the staples and anchors of your console table, so finding the right ones is key!

Focal Point: Starting in the middle, think of something large and attention grabbing. A large round mirror or piece of artwork that reflects your style and personality, or decor theme is great for this space. Make sure to get something that will not be completely covered up by the other items on your table, but large enough so it takes up roughly 2/3rds of the wall space. Hang your mirror or art anywhere from 6-10" above the table so it looks like it is a part of the curated collection of pieces you're going to place on top!

Lighting: The all-important item we highly suggest purchasing and placing on your console table is a lamp! Accent lighting immediately makes a room feel more welcoming and cozy. Our collection of lamps and shades is the perfect place to find a table lamp in glass, ceramic, or metal that can coordinate with other lamps you have in the room, but they don't have to match! Don't be afraid to try something a little more modern if you love the base! Shades can be swapped out as often as you would like, and if you mix materials with other items on top of the console table, you can achieve a great ecclectic but put-together look! Make sure to measure the with of the shade you will be using and compare with the depth of the console table to make sure it won't be too large, or hitting the wall or getting knocked over as you walk by!

Balance: Placing a lamp on your table will add height on one side of the table, which automatically makes the opposite side of the table look a little lonely. Now is the time to find a friend to go with it! A large glass vase with faux stems or branches matches the height of your lamp and gives the eye the balance and symmetry it needs. We have a huge collection of candle sicks that can be topped with boxwood toppers or candles, and a wide variety of urns and other vases that will look great as a balance item on your table!

Stacking: Here's the fun part! Find a few flat items like antique or art books or decorative boxes and small potted plants that can be stacked in order of largest to smallest size. This is a great way to introduce some personality and even color to the table. Stack books that have something to do with your hobbies or family history, or even places you've visited on trips. Use colors that match the lamp or balance items, or if those pieces are neutral you're welcome to keep your stacked items neutral as well. Feel free to shop your home or come to our stores and find something new!
Filler: Find one or two personal items depending on how much space is left to display and give your console table a personal touch. A small photograph or sentimental item collected on a trip like a beach shell, or figurine is perfect. Walking by and seeing those items will put a smile on your face! If your table is near an entry way why not put a small decorative tray on the table for keys or other items you might need as you walk out the door?
On the Bottom:
While you may not automatically think of these items, they will make a difference in making your table look top heavy, or evenly distributed, so don't neglect the underside of your table!

Lighting and filler: If you use the lamp on top of your table as a source of light for the room, use the bottom of your table for cozy or whimsical lighting! Find a lantern at Carolina Pottery that fits under your table (another time where those measurements come in handy!) and fill it with a battery operated candle or LED twinkle lights to give your space a little glow at night. A collection of small vases or ceramic items is also a great option instead if you don't want something that gives off light.
Balance Filler: The bottom of your table needs balance just as the top did, so don't forget to find something to fit underneath that can be a buddy for your lanterns or vases. We love using a rope basket and an extra throw! It fills up the space nicely, and gives depth and texture that would be too heavy for the top of the table. Toss a little decorative pillow underneath instead to match the season, or the rest of the decor theme of your console, and you're done! This is a great way to match the colors of your stacked items or the artwork you decide on hanging above the table. Get creative and think of your color palette when selecting your filler pieces and you'll have a great cohesive look!
As you decorate your table step back a few times and don't be afraid to remove or replace pieces to see how you like their arrangement. Enjoy your newly decorated console table! Snap a picture to show us which items you've picked up and are loving from Carolina Pottery, and share with the hashtag #carolinapottery so we can share it! We can't wait to see what you design! Happy Decorating!