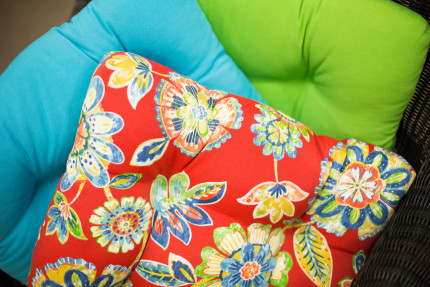 How To Choose Your Cushions: Sunbrella or Spun Poly
How to Choose the Right Fabric for Your Outdoor Upholstery.

What is the point of having a beautiful yard or garden, if you don't have a place to sit and enjoy it? That is where outdoor cushions and furniture come in handy. With summer just a few months away, now is the perfect time to improve your outdoor seating areas and living spaces. However, when it comes to cushions and upholstery, you have some options. Namely, do you go with a spun poly fabric or acrylic fabric? Here are a few things to consider when choosing fabric cushions.


When buying outdoor upholstery fabric, it helps to be an informed consumer. While you may have heard the 'Sunbrella' brand name, you may not fully understand what it is or how it works. Sunbrella brand cushions are 100% solution dyed acrylic fabrics, which basically means that the fibers of the fabric are dyed first, then woven, rather than woven and printed on like typical outdoor fabrics would be. These 100% acrylic fibers are a great option for outdoor furniture due to their water-resistant qualities and the durability of the color quality.

While 100% acrylic fabrics are durable and meant to withstand years of outdoor use and abuse, these fabrics are often limited in terms of colors and patterns. Fabrics made from spun polyester, on the other hand, can be screen printed to capture greater detail and brighter colors in their patterns. While these fabrics may be more attractive and allow you to get the exact look you want, they may not withstand the elements as well.
Breaking Down the Difference

The following table provides at-a-glance information for selecting the right fabric type for your outdoor cushions.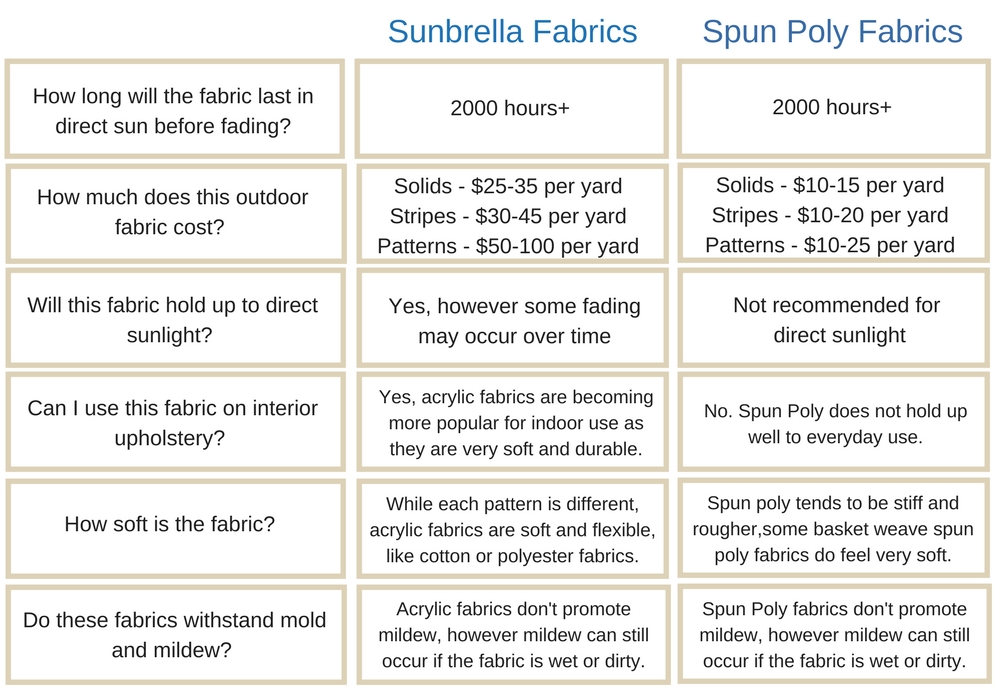 Depending on your budget, outdoor living area and how much shade it gets, and your need for outdoor fabrics, you can use the above table to ensure you make the best choice of outdoor fabric. For more information stop by one of our
4 store locations
!