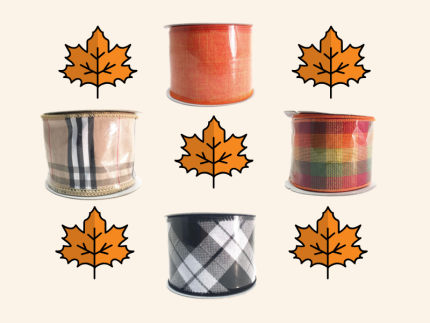 How to Choose a Fall Ribbon For Your Wreath
It's fall and you want to make a new wreath! You hop in the car and head to the store, or log into your computer and start searching online for ribbon… but the options are endless and overwhelming. Polka dots, pumpkins, plaid… your mind and imagination spins with all the cute, quirky, and classy choices, but you can't decide on which ones to use! If bringing the whole store home isn't an option, we've put together some strategies to help you narrow those ribbon choices down.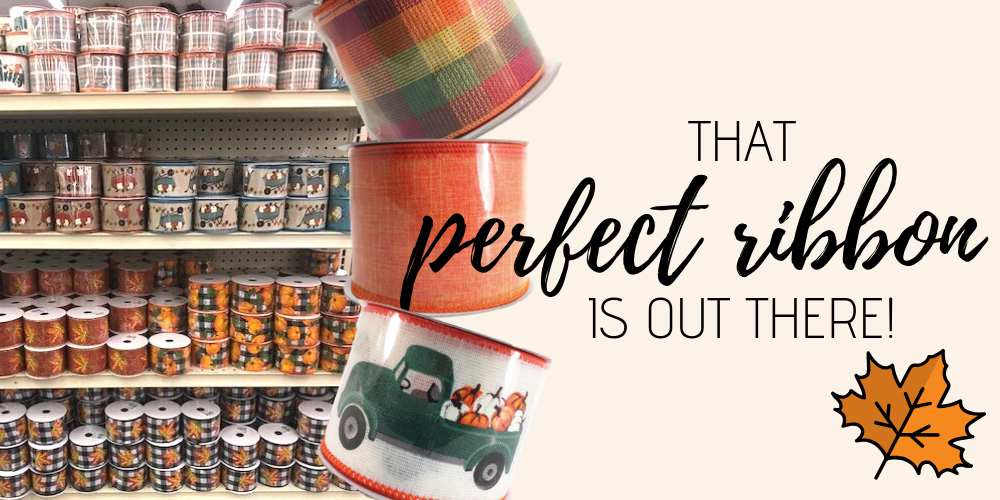 Decide on the color scheme and theme
First thing's first. Decide on what theme your wreath will be. Rich fall colors against a grapevine wreath for Thanksgiving? Bright pops of color on a wire wreath form with lots of sparkly and fluffy mesh? Or will you go with Black and orange for Halloween? Maybe something spooky? Popular combinations of black and white and buffalo check are happening this year as well. By narrowing down your color scheme or theme ahead of time you'll save valuable time standing in front of the stacks of ribbon in the store. Hunt through our wreath inspiration page on Pinterest for ideas and bring those pictures with you to the store!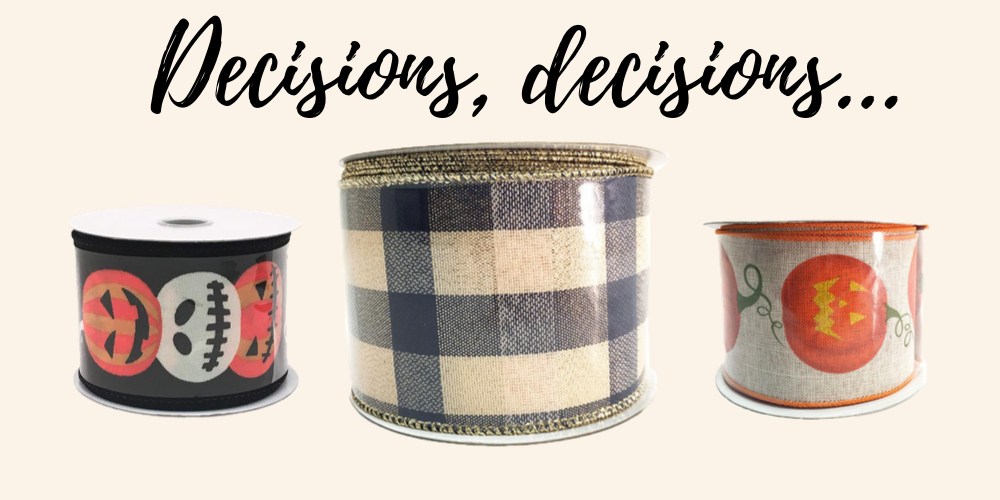 Pick your florals

Now that you've got a theme narrowed down, try to find all the floral or greenery pieces you plan on using. By deciding on these first, you can hunt for the perfect ribbon that complements the novelties and natural items you've chosen. If you end up using a lot of acorns or pumpkins, or even a larger metal farm truck cut out, that can help decide the colors and themes of the ribbon you pick next!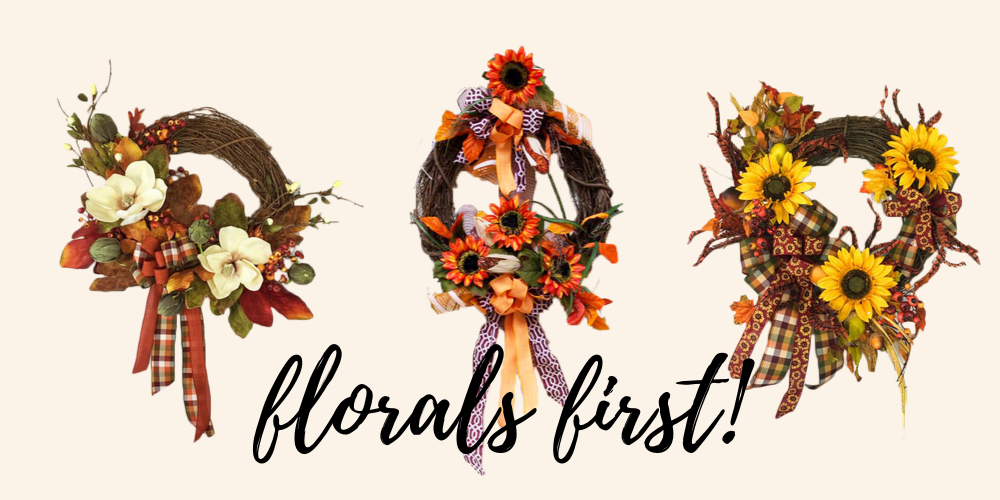 Choose the unexpected
Are you the type that likes the unexpected? It's easy to pick a ribbon that just "matches" the rest of your wreath, but what about mixing things up and picking something a little unexpected? If you're an expert bow maker, you don't want to hide your skills with a ribbon that could blend in with the rest of your project. Pick colors that don't necessarily match or look like a fall color, but make sure they complement the rest of the colors present. A bright green against muted oranges and browns, or a bold buffalo check on a neutral burlap wrapped foam wreath will catch the everyone's eye and invite them to look closer at all the details you've tucked into your project!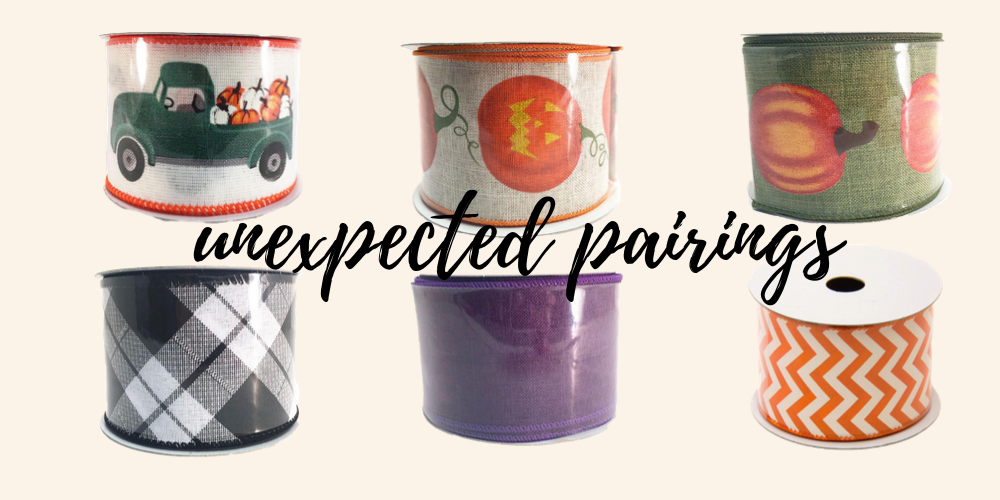 Choose your primary ribbon
Don't be afraid to mix patterns as well! Gingham and polka dots, or plaid and novelty patterns go well together. The best way to decide is to pick one you absolutely LOVE and start stacking spools to see how other ribbons look next to it. If you get stuck, pick one that will be the primary ribbon - the one people will notice straight away and that grabs the most attention. Then pair it with one or two more types of ribbon with different texture or weight and width that could be considered "secondary", or "background" ribbons. Solids make a great choice! Layering ribbons this way will fill out your wreath and give it dimension. Plus you'll have more ribbon left afterward for even more projects! Yes, we might be enabling your ribbon addiction a little bit. But it's nice to have options, isn't it?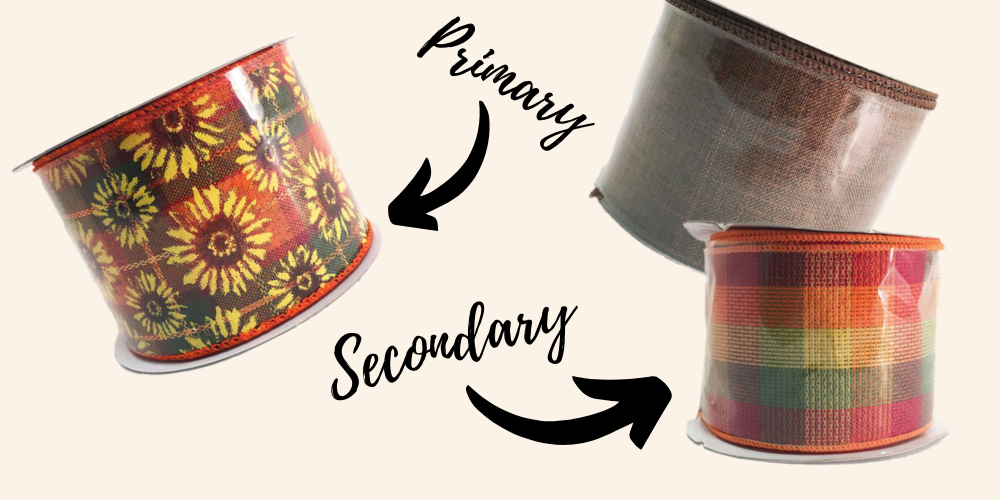 These are just a few strategies for picking your ribbon, however. Some people like to choose their ribbon and let it act as their inspiration! Others like to go strictly off ideas they have seen online, and still others just like to buy an entire wreath pre-made!
We hope these tips keep you from getting overwhelmed when choosing your next wreath ribbon this fall! If you get stuck we are more than happy to help you on your next visit. Even better, sign up for a wreath making class! Just come in and ask us about it! Space and dates are limited. When you're done, show off your fall-tactic wreath made with our fall ribbon using the hashtag #carolinapottery. Have fun creating!