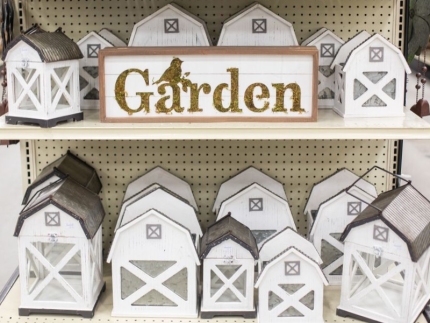 How To Bring Modern Farmhouse Decor Into Your Home
What is it?
Modern Farmhouse. It's a style that has been circulating through DIY television shows and big box store aisles for a while now. For some of us the word "farmhouse" may evoke images of dilapidated sheds and peeling paint, or maybe some rusty farm equipment lying next to a barn with overgrown weeds taking over. That may be true of some old and sadly neglected farm houses, but it's definitely not true of Modern Farmhouse decor! This popular style takes all the same elements of wood, metal, greenery, and even natural fibers, updating them with clean and simple versions that give your home an airy feel. Definitely not dilapidated! At this rate it doesn't look like this fad is going anywhere any time soon, and understandably so! Its slight leaning toward minimalism means you don't need many objects or much time to put together a look quickly.
Here are some elements you can mix and match to get the look in just one trip to Carolina Pottery!
Wood reclaimed!
Modern Farmhouse is all about the wood - especially reclaimed barn wood taken from carefully disassembled buildings. People have created entire businesses around hunting down and rescuing this wood from abandoned homes and barns for new homes or furniture. If buying a recycled farm-door or table isn't an option for you, bring wooden pieces into your home with hand-painted signs and wall art that give the same re-claimed look. White washed, painted, or distressed wood texture is gorgeous next to some of the other elements we're about to show you!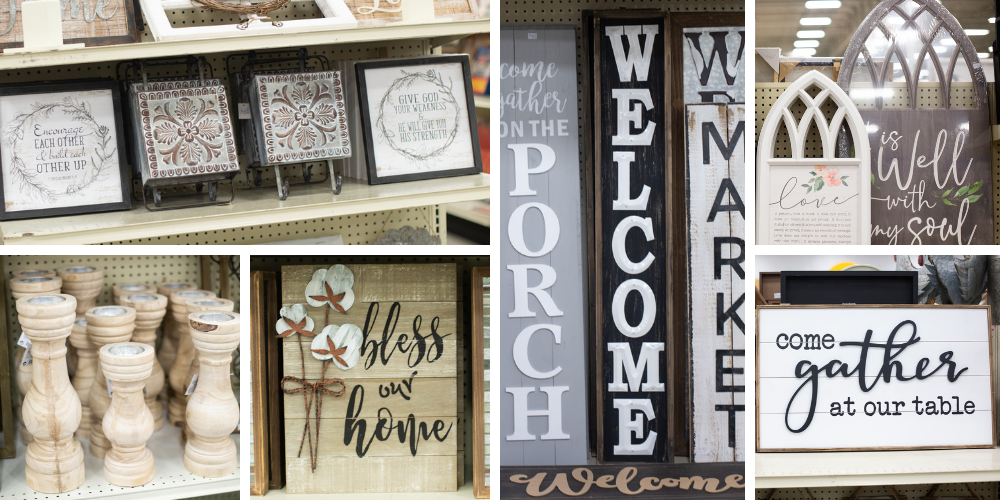 Metal: Aged to perfection
Rust usually signifies something being out-dated or aged, so it may be confusing to think of it in a "modern" context, but a little bit of rusty metal is exactly what makes Modern Farmhouse Decor what it is! Clean lines in wrought iron furniture legs, light fixtures, and wall art give a slight industrial feel, but pairing wood with greenery and textile keeps whatever metal you incorporate from looking too stark and cold. Tin and hammered metal with distressed edges make it look like you brought a piece of roofing home from your grandparent's old shed and made a piece of art or a functional tray! Of course, you don't actually have to make it yourself when you can walk into one of our locations and find any kind of rustic metal decor you could think of! Many of our pieces look just like objects you would actually find hidden away on a farm, and they can be made into cute arrangements like centerpieces, wreaths, and door hangings! The options are endless!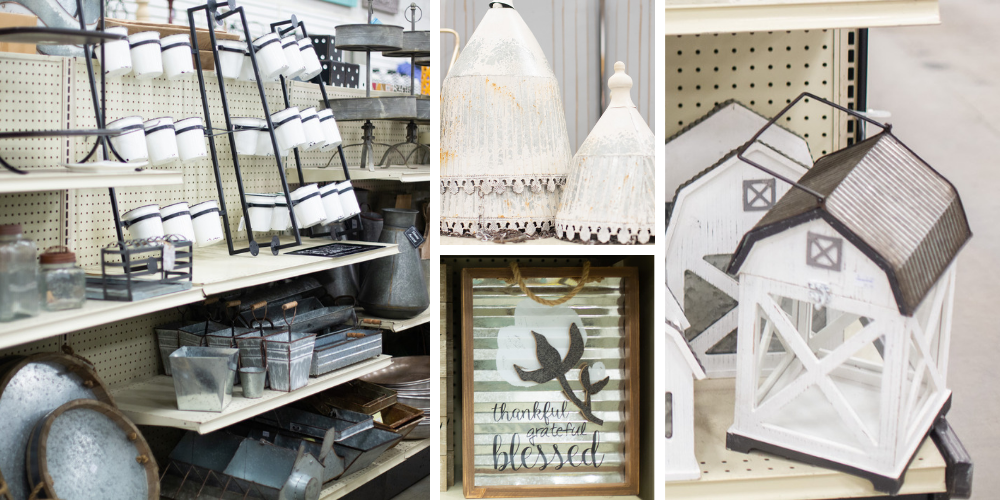 All that's green
What farmhouse is complete without something growing? Greenery is everywhere in Modern Farmhouse decor and it's such an easy addition to whatever you are decorating. Find potted boxwood or eucalyptus sprigs to arrange sparingly in a large vase. The key is to use it in a minimal and no-fuss way. A simple wreath, just a few stems of white roses, or cotton are enough to give the impression that you just stepped outside to the garden or field to cut what you needed for your arrangement. Again, greenery softens up the hard feeling of metal and wood, so always make sure to include some to make your room feel like home!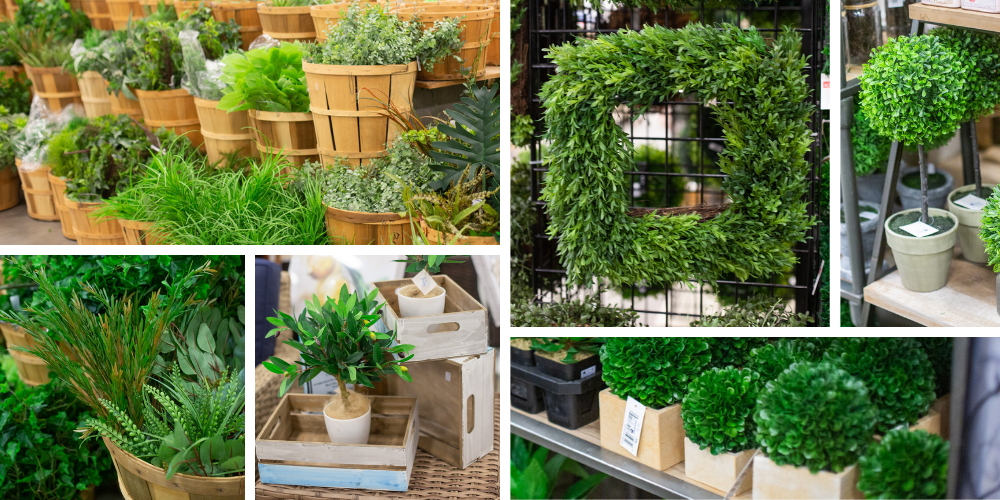 Textiles to match
The quickest way to soften up a room is with textile, and Modern Farmhouse decor uses it in so many ways! Strategic use of natural fiber rugs, burlap ties, and cotton and linen in their natural colors brings comfort to any space. Stick to color palettes of naturally occurring tones. Cream, white, and even gray (to mimic metal tones) keeps things looking clean but curated. Neutrals are the easiest colors to work with, so mixing and matching is a no brainer! If you struggle to decide on "wht goes together", the Modern Farmhouse style is for you. It all goes together, which may be why it's popularity has lasted for so long! Just pick your favorite patterns of plaid, clean stripes, or solids and combine them in any way you want! Pillows are an easy way to do this, or even some towels for your kitchen or bathroom can soften up your space.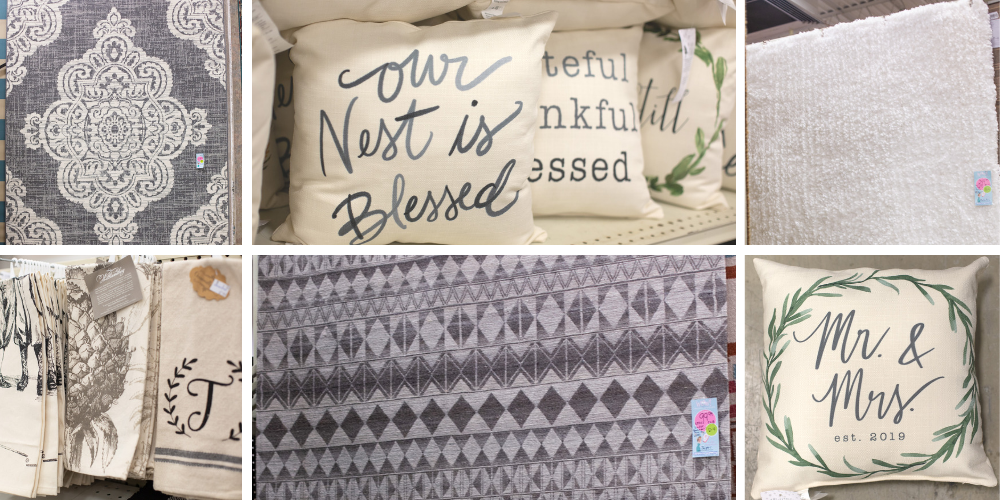 Jump in!
A Modern Farmhouse look is well within your reach when you start with these elements on your next trip to see us! The best thing about this style is that it can be easily updated with just a few touches for every season. Add some orange and gold for fall, or pops of red buffalo check for Christmas! We'll help you find the perfect collection of wood, metal, greenery and textiles to get the coveted "fixed up" look from your favorite DIY shows and blogs. Can't wait to see you!