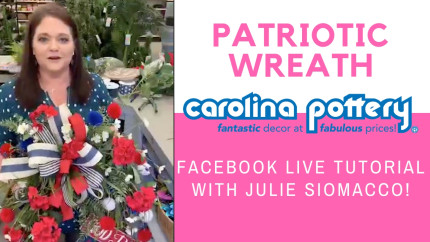 FB Live With Julie - Patriotic Wreath Tutorial
Follow along as Julie Siomacco creates a patriotic wreath in our Facebook Live video! Start getting ready for Memorial Day and the 4th Of July by getting a head start on your wreaths today!
Julie shows how fun it is to add a patriotic sign to you wreath! Choose from red, white, and blue wood or metal signs. Don't let the size of a sign limit you!

Julie walks you through each step of the wreaths with simple instructions!

Supplies needed for this tutorial:
a large oval grapevine wreath
patriotic sign of choice (Carolina Pottery has a GREAT variety!)
red, white, and blue silk flowers
greenery
patriotic picks
3 ribbons
floral wire
wire cutters
hot glue
glue pan
Tip: Look at the focal point of your wreath and use ribbon to match it. In this case, the sign is the focal pointof the wreath so Julie picks out red, off white, and blue ribbon varieties.
Directions:

Use the floral white to attach your sign onto the wreath at the broom right side of the wreath.
Adjust the sign as needed to get the perfect fit. Make sure it's tightly secured!
Create a bow with your ribbon. Watch all of our bow tutorials here.
Balance out the wreath by attaching the bow at the opposite corner of your wreath. Place it slightly off-centered and secure it tightly.
Start by using hot glue to add greenery all around your bow. Keep adding the greenery until it looks full.
Incorporate your flower of choice by cutting the blooms off from the bush so you have more control of where you place each item.
Hot glue the flowers into the wreath in the same way as you glued the greenery. Tip: leave space between your flowers so that they can "breathe"
Use your patriotic picks to add a festive flare! Seperate each individual piece by cutting it off from the bunch.
Bend the pick slighly and then hot glue it to your wreath wherever you'd like! There is no right or wrong way to play items on your wreath! Do what feels good to you!
Finish off your wreath by adding a few different accent flower stems or greenery stems. Tip: Balance out your wreath by repeating what you do on one side to the other.
For a limited time, you can find the items used in this tutorial by clicking
HERE.
Happy crafting! As always, get creative!