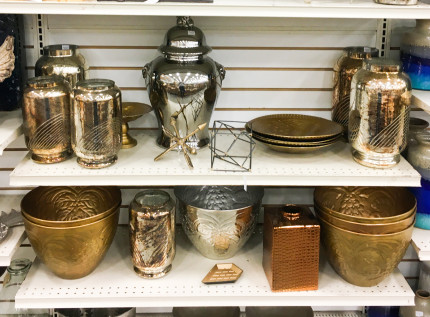 Decor 101: Decorating with Brass!
Are you new to home decorating, or looking for some fresh inspiration for a space in your home that looks 'blah?' Brass is getting a lot of attention in home decor these days, and it's no wonder! Its incredibly versatile look works with rich jewel tones, bright whites, and every shade in between you can think of! Brass finishes look great with wood and textiles, and it's easy to dip your toe into decorating with brass by finding a few of these small items available at Carolina Pottery.

Hardware and Fixtures
A simple way to include brass in your home is by changing out the hardware on your cabinets and drawers. A simple swap can make all the difference by bringing a dated look into the present. Don't forget swapping out faucets and light fixtures! Brass is a timeless finish that weathers the years well, so making an initial investment is well worth the money!

Vases and Pots
We love the look of a brass vase or container with a gorgeous bouquet of fresh flowers or an arrangement made with faux florals. They make for gorgeous centerpieces and are easy to care for.

Figurines and Accessories
Get creative and show off your personality with brass finished decor accessories! If you like an antique look, start looking in thrift stores for something you can repurpose, or stop in at Carolina Pottery to find something new!
We can't wait to see what you find at Carolina Pottery and how you incorporate it into your home! Snap a picture of your most recent brass decor finds from #thepottery. Share your post on social media with this hashtag and we'll share it!
Happy decorating!