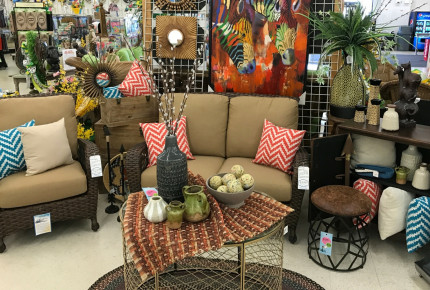 5 Affordable Ways to Get a New Look In Your Home
Walls and floors may make a house, but it's the accents and accessories that create a home. From rugs to artwork and wall hangings, the individual home accents that you display in each room proclaim your ownership of that space. Use thoughtfully chosen pieces to express your unique viewpoint and create the atmosphere that reinforces your own definition of home. Cohesive colors, clever placement of mirrors and using light creatively are just some of the ways that you can put your own stamp on the rooms inside your home. Let's explore some simple things you can use to keep your living spaces fresh and attractive.
Brighten Up an Old Couch


If your living room couch is looking worn and used, a few home accessories can make it look new again. A new slipcover can completely change the color of your old sofa and hide any worn-out sections. Adding a few brightly colored throw pillows can dramatically change the look of your couch and add a touch of extra comfort. If you have a variety of throw pillows on hand, you can switch them out to suit your mood or the changing seasons.

Use Mirrors to Create Depth

Blank spaces on your walls offer an ideal place to hang a mirror. Mirrors offer a fresh touch of style by making your home look larger. You don't have to choose a boring square mirror; look for a mirror that fits your own personal style with interesting details, such as an unusual shape or a decorative frame.

Add Light and Color with Candles

Even if you don't regularly burn your candles, you can still use them as home decor. Arranging a group of candlesticks with matching candles serves as an excellent base for a centerpiece on your dining room table. Adding a few more accessories, such as seashells or dried flowers, can complete the look. Colored votive candles can change the feel of the light from your candles and create an interesting experience. Candle light is also a great alternative to electric for setting the mood for a social or romantic evening at home.

Bring the Garden Inside with Ceramic Planters


With spring on its way, plants and flowers are a must for indoor and outdoor decor. If you grow them yourself, once you have a few flowers blooming, bring some inside to place in ceramic planters. Or having artificial plants in attractive vases can be a low maintenance addition to brighten up a room. Planters can go just about anywhere in your house, including your dining room or on your coffee table. Whether live or plastic, the color and calming effect of plants can transform a simple room into a real living space.

Add More Glass

Glass containers offer a fun way to decorate; you can put almost anything in them to show off your style and personality. For example, if you want more live plants in your home, try building a small terrarium in a glass container. If you collect small things, such as buttons or wine corks, you can display them easily in a glass container.

Home accessories may not always be functional, but sprucing up a room with a few pieces of decoration can make it feel like more than a collection of walls. If you need to add some new pieces of decor to your collection, visit us at Carolina Pottery; you're sure to find something you'll love in our expansive inventory.