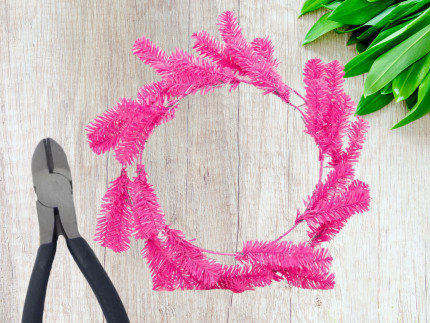 7 Must-Have Craft Supplies for any Crafter and Maker!

No more interrupted crafting sessions because you don't have what you need to finish! We've put together a list of craft supply essentials to have on hand so you can craft to your heart's content!
Great for making snips to adjust florals and trim back floral wire used to attach ribbon and signs and other elements to your project!
2.
Scissors
- $1.99 - If you're constantly on a hunt for scissors in your home because they grow legs and disappear… we've got you! At just $1.99 you can afford to buy a bunch and keep one in every room for when you need to trim ribbon or a loose thread.
Every serious crafter has one of these in their arsenal! We love this hi-temp glue gun that gets the job done!
Don't find yourself out of glue sticks when inspiration strikes for a beautiful wreath design! Keep a few bags stocked for those late night craft sessions.
Florists' wire is a must for assembling floral projects and keeping things where you want them! Pick up multiple packs and make sure you always have enough!

Planning on making a set of groomsmen's boutonnieres, or small bouquets for bridesmaids? Make sure you have stem wrap tape to keep everything in place! Available in multiple colors to match every color scheme!
Every wreath maker has their favorite style and base they like to work with! Experiment with a new wreath making method, or stock up on your favorites in multiple colors for each season!

Make to your heart's content with these basics and share your favorite creations with us on Instagram and Facebook! We can't wait to see what you come up with! Shop all our craft and wreath making supplies here, or visit one of our four store locations in the South East! Don't forget to join our Lifestyle Club to get updates on new products and coupons for shopping online and in stores!