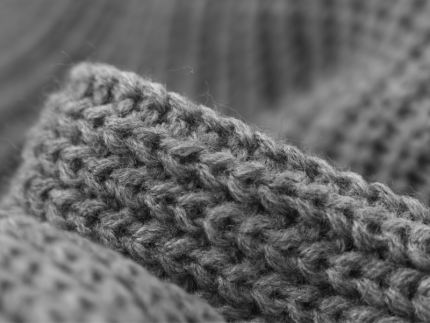 6 Cozy textile trends in 2020
It's winter.
Which in the south can mean it's either snowing, or 75 degrees and sunny. But no matter the weather, we love this decorating trend that will be found in stores at Carolina Pottery and all over home decorating magazines and TV shows. COZY TEXTILES. Who doesn't want to be cozy?! Even in summer months when the AC is running and you're beating the heat, it's still so nice to have something soft to snuggle into at the end of a long day. Here are some of the textiles and fibers we plan on tossing into our carts the next time we go home décor shopping

Who doesn't like shearling? This textile makes a great lining for jackets, but it's also great for snuggling up under a throw with a good book on those cold January days when you don't want to go outside. Faux shearling is easy to find just about anywhere you go, including Carolina Pottery. Selection varies by store location and season, so call ahead

Velvet has been making a comeback in the past few years in clothing and home décor. If you have a large room that you want to make cozy and intimate, try finding velvet curtains to cut down on noise and make the room feel a little more intimate. Velvet pillows are an affordable way to add rich texture to your couches or bedroom. Come visit our pillow department to pick out something soft today!
There's nothing like a well loved leather couch or chair that welcomes you to relax. 2020 will see an upward trend of using carefully chosen antique pieces in the home, and we can't wait to start scouring antique stores for some leather chairs or even an ottoman! Lay a shearling rug underneath and you may find that couch calling your name very often!

An alternative to wool, mohair wool from Angora goats is softer and lighter weight which means coziness without the bulk! Blankets and throws in mohair can keep you warm and toasty and are typically hand washed in cold water. We love the velvety look of mohair covered pillows against a crisp white duvet or a leather couch!

Cheaper than most fabrics, faux micro fleece or sherpa fleece are an affordable way to add the soft look and feel you crave, without breaking your budget. Find a blanket in a neutral color to use all year for movie and popcorn nights on the couch, or purchase rich tones to provide a pop of color to go in your home for each season! We stock sherpa throws around Christmas and at other points in the year, so keep your eye out around the pillow and cushion area of our stores. You never know what you'll find!

Wool may scare some of us off initially if all that comes to mind is something scratchy or itchy in the form of a sweater from years ago. But wool can be super soft and durable if you find the right kind! Make sure to look for wool blend textiles and check to see the percentage of wool used. Don't be too shy of the price tag! Wool blankets can last for years when cared for properly! Just check the laundering tag to see if dry cleaning is required. You may just find a new favorite that gets daily use for a long time.
We are excited to use this design trend for 2020 in our homes, and can't wait to see what you choose from Carolina Pottery! If you're on social media, snap a picture of your new décor, tag it with #carolinapottery and get featured on our instagram and facebook pages! Happy Decorating!
Image credits:
Textile icons - Business vector created by macrovector - www.freepik.com