5 Ways to Use Buffalo Check this Christmas
It's that time of year again! Our halls are already decked here at Carolina Pottery and we just can't get over all the goodies we've curated for your decorating needs.
One of the staples that continues to be a popular trend is well-stocked and easy to incorporate with any holiday theme is Buffalo Check! This plaid, originating in Scotland as the MacGregor Clan tartan "Rob Roy", made its way out west in the mid 1800's and was picked up by Woolrich. Read more about its history here! It was well worn by lumberjacks and other working men, and recently It has made a resurgence in fashion and home décor. Its bright red color and variations in white, orange and even blue! are perfect for the holidays. Here is just a fraction of the amazing items you can pick up in store and online to give your home that farm house Christmas look!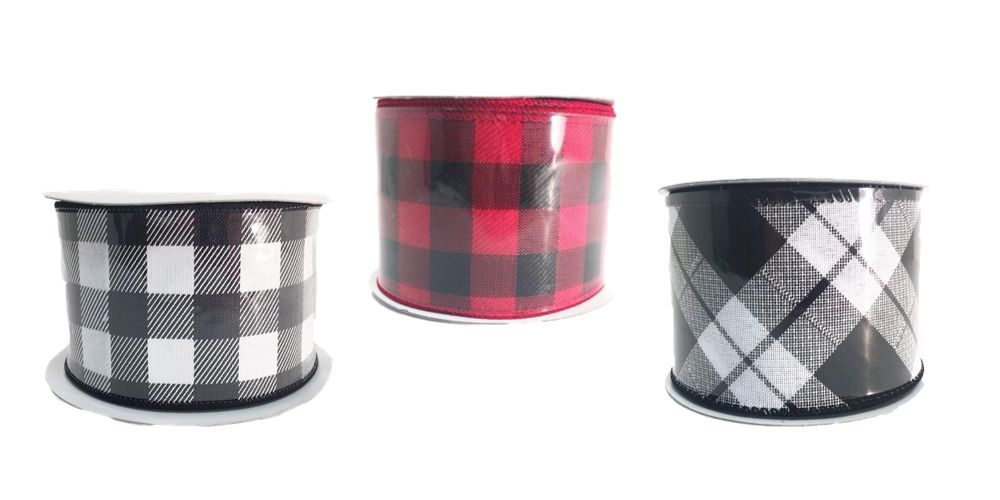 Shop this ribbon online!
RED CHECK || WHITE CHECK || BLACK & WHITE PLAID
Ribbon
Ribbon is such an easy way to decorate and dress up just about anything you can think of. Trim a wreath or tree with a few buffalo check bows or even use it as a way to hang your ornaments on the perfect branch. Cut longer sections of it to wrap around a balsam garland or wrap that special "Santa" present in some Kraft paper and tie some "Merry Christmas Y'all" around it for a personal and thoughtful touch.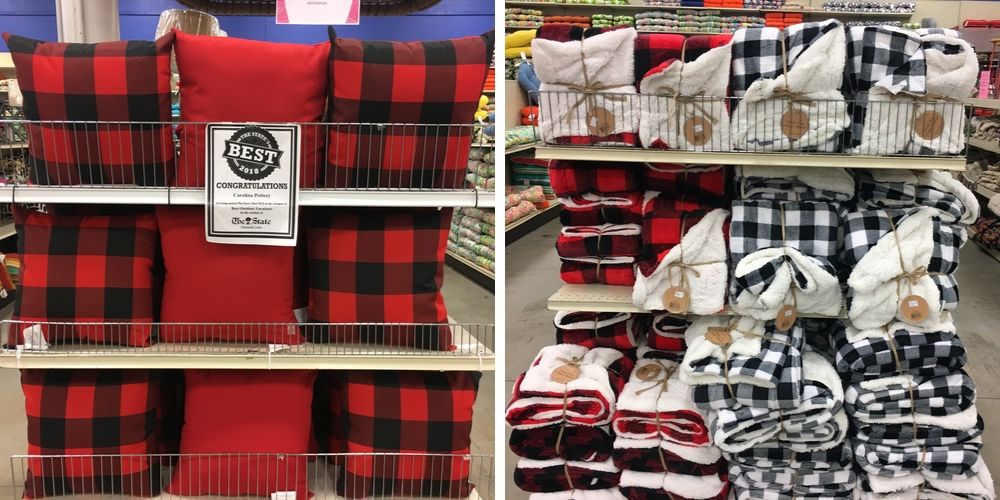 Pillows / Textiles
If you're like us, no part of the house is left undecorated this time of year. Even couches, chairs, and beds are decorated with Christmas cheer at our place, and Buffalo check is the perfect pattern to dress up your living room couch or guest bedroom to keep family and friends cozy while they visit for the holidays!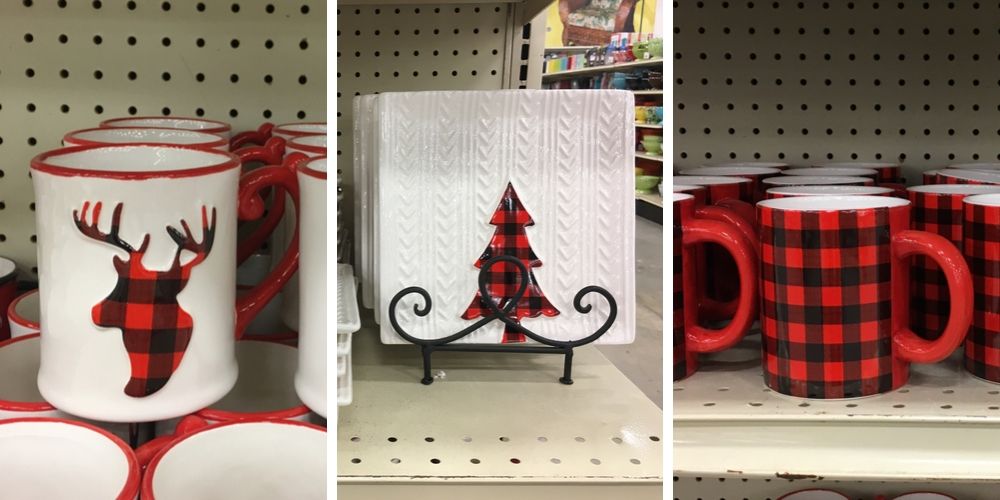 Tableware
Carrying the theme into the kitchen and holiday place settings, we've stocked up on so many versatile and cheery red black and white buffalo check tableware items. Placemats, napkins, and dish towels instantly make your table cheery, and having a few containers to keep all your baking and cooking tools in one place is functional and festive!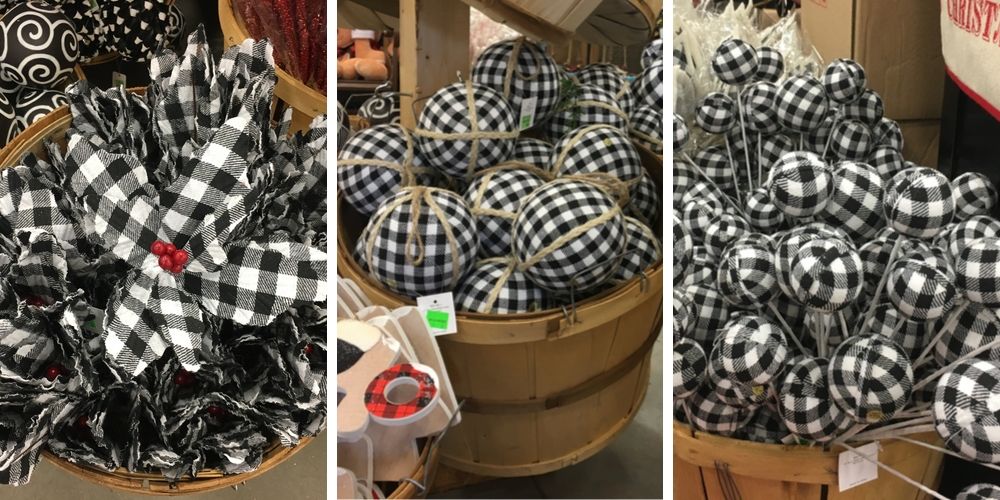 Ornaments And Floral Stems
It's a no brainer, but we had to include it. ORNAMENTS. We're pretty much ornament-aholics over here at Carolina Pottery, and we know a lot of y'all have the same problem! You can never have too many buffalo check ornaments or even floral stems of plaid poinsettias or baubles! Simply stick them into your tree branches to incorporate pops of color all over! Don't worry, if you run out of room, we sell trees too!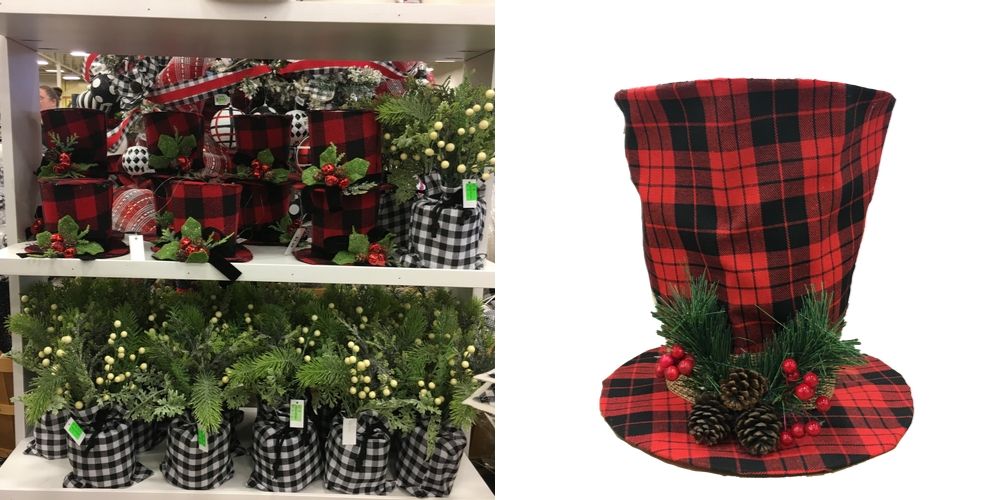 Table Top Décor
Think of Table Top Décor as a way to decorate any space in your home instantly. We have something for any style, taste and personality! Tuck a buffalo check hat in between branches of a garland on your mantel, or in the branches of your Christmas tree. We like to lean signs up against the backsplash on our kitchen counter, or place figurines in a guest bath room counter or hallway table. You'll find so many things to choose from that you may start making new homes for our seasonal décor!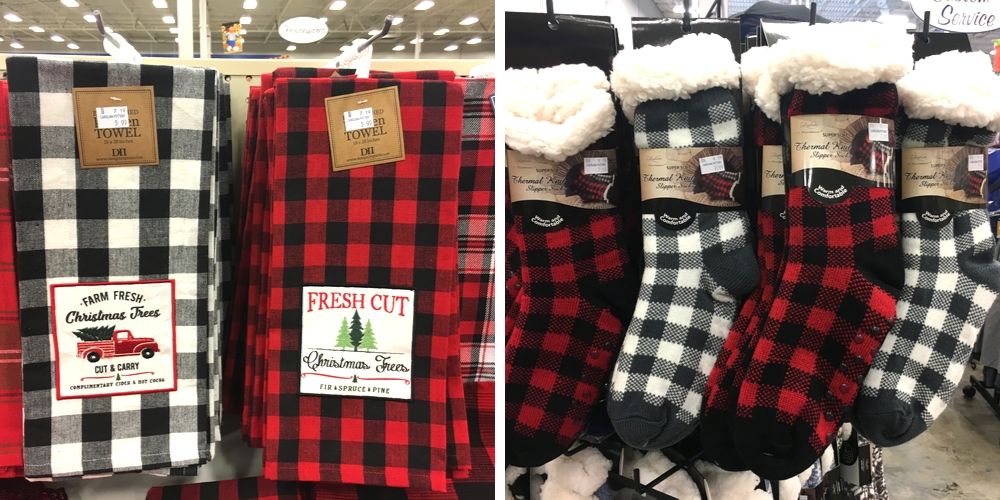 Bonus Tip: Hostess Gifts
Okay, we said this blog post would have five ways to decorate for Christmas, but we can't forget the friends and family you're visiting with this Christmas season! They have put a lot of hard work into making the holiday perfect for everyone, so give them a thank-you gift of a buffalo check towel, or even a pair of slipper socks to stay cozy when they finally get to kick their feet up after guests are gone.
If these items get you excited to start decorating, don't hold back til November! Come in to one of our locations today to pick up everyone's favorite holiday pattern, Buffalo check! It's already starting to fly off the shelves so don't forget to visit our online shop for ribbon and wreath making supplies as you start to plan your holiday crafting sessions in the next few weeks! We're happy to help you find just the right supplies to make this season special.