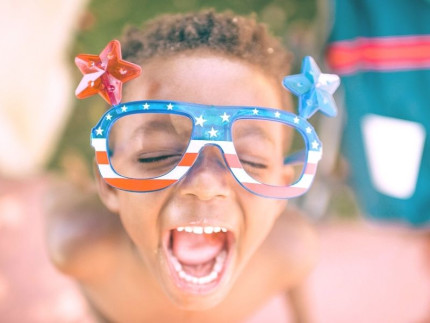 5 Kid's Crafts for July 4th
School is almost out, or is going to be very soon, and we know you're probably scrambling to find things to keep your kids occupied now that virtual learning and in-class learning is on a break! We've compiled a list of some craft project ideas you can make with kids and grandkids, or while you're babysitting for other families between now and July 4th! Make sure to check out the links provided to pick up some craft supplies with us at Carolina Pottery!
We love this tutorial because it lets the kids take the lead (as she suggests!) and there's really no wrong way to make it as long as you have red, white, and blue ribbons! This is also a great project for when the small American flags sell out in stores and patriotic themed ribbon is hard to find.
Just pick out some thin ribbon in red white and blue
, (grosgrain works too!) and soon you'll have a streaming wand for the kiddos to dance around with and wave for neighborhood parades and backyard dance parties.
TAKE IT FURTHER: June is PRIDE MONTH and a rainbow ribbon wand would make the perfect project to work on to while away a long summer afternoon. After July Fourth, revisit this craft with the little girls in your life who are obsessed with fairies or unicorns! Just swap out the paint for pink or purple, and use pink, purple, yellow, light blue, and white or sparkly ribbon instead!
The best crafts are simple with a big impact, and this wreath is as good as it gets! This project calls for a
craft hoop
or embroidery hoop, and red, white, and blue bandanas. That's it! If you're worried about messy crafts, scissors, glue, glitter, or even hot glue guns that are needed for some kid crafts this is the perfect project to pull out for something easy, and fun they can say that they made themselves! Little ones may need help learning how to roll the bandanas, but this is a perfect way to practice their folding and understanding of shapes! Older kids can be shown the basics and left alone to create! Let kids hang their finished project up on the front door, over the mantel, or even in the bedroom to display with pride.
Take It Further: Buy different bandanas in their favorite colors to create a year-long wreath for their room, or pick out specific color schemes for other holidays. We're thinking all green for St. Patrick's day, or red and green and white for Christmas! The possibilities are endless! And because there's no glue involved you can swap out colors and reuse the hoop over and over again!
Image Credit: Jonathan Fong
Here's a fun project that can help put a dent in your ever-growing ribbon scrap stash!
Save your oatmeal or coffee bean tins to make these and you'll find it hard to make just one! Hang up their finished creations from the porch or your front yard trees to show your neighbors how crafty and creative you are!
Shop our ribbon selection
if your stash is low.
Take it Further: After the fourth let the kids make one in any color combination of their choice as a gift for elderly neighbors or friends who aren't able to get out as much to cheer them up. Put together a care basket with some snacks and small necessities to make someone's day!
Who hasn't painted a terra cotta pot growing up as a kid? Chances are you probably still have one lying around that you decorated, or your grown kids decorated for a birthday party or church VBS craft. Let your grandkids or kids paint a July 4th flower pot to fill with real plants and place as a centerpiece, or fill it with utensils for a cookout, or
faux florals
that you won't have to remember to water! Just pick out the pots in whatever size your kids are able to handle and remember to use acrylic paint! If you're worried about broken pots there's no rule that says they have to be real terra cotta.
Plastic works just as well, and we even have red and white ones
! Remember, washable paint isn't much good if you're going to keep the pot outside! Just put out lots of newspaper or an old plastic shower curtain in the driveway to keep the mess outside and have kids wash off with the garden hose when you're done.
Take it Further:
Terra cotta pots and small plastic pots are cheap, and the perfect blank slate for thousands of craft projects. We suggest going on
Pinterest
to look up more ideas! We've seen anything form pineapples to toad stools and snowmen to carrots. There are so many methods to painting as well, so let the kids get creative!