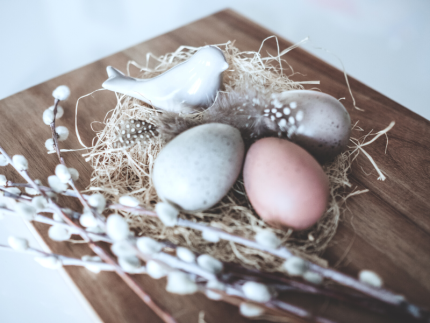 5 Easter Brunch Decor Ideas

Who doesn't love brunch!? It's the best of both worlds. Breakfast food, light lunch snacks, and maybe even a mimosa (or two). Easter is the perfect time to put together a delicious brunch complete with adorable décor for friends and family as we celebrate new beginnings. Decorating can feel overwhelming when you add egg hunts and cooking to the mix, so we've put together 5 décor ideas to help you get the gorgeous looks you see on Pinterest at a fraction of the cost and time.

Table Garlands
Whether floral, or strictly greenery-based, you'll love the ease of decorating your table for Easter brunch with a garland! Just fluff, slip in a few easter-themed fillers, tuck some Easter eggs between the leaves, and you've got a low-profile centerpiece that everyone on the table can enjoy and converse over! There's no need for glueing or wiring in place which allows for easy clean up and customization each year as your tastes or popular styles change!
Branches with eggs
We love a little easter tree, and what better way to make one than with a couple of faux tree branches in a large vase, or with boxwood topiaries? Hang your collection of eggs on long strands of colorful ribbon or with hooks leftover from Christmas with bright bows at the top! Add one or two little bunny figurines nestled underneath, and your spring display is complete!

Wreaths
It's a no-brainer, but we had to add it to the list! Welcome your small gathering of friends or family to a backyard brunch with a wreath hung on the gate, or the front door of your home for an indoor celebration if your egg hunt gets rained out.
Candle stick toppers
Pillar candle holders and stands make the perfect arrangement stands! Take a small bunny figurine or Easter egg and nestle it on top with some Spanish moss or faux greenery! If you're worried about open flames but want a glow on your side table or mantel, place an LED candle on top of the pillar and surround it with a pre-made floral candle ring. When we move into spring, just remove your decor and replace with something every-day or a summer themed bow. This is such an easy and versatile way to decorate when you're short on time!

Tiered Tray Displays
Even if your Easter celebration turns out being small this year, there are still so many ways to make it special! Tiered trays have been popular for a while now, and they're not going anywhere in 2021! Tuck little bunnies, Easter eggs, inspirational quote blocks and little sprigs of spring florals in with your napkins and utensils for easy counter-top access, or keep easter candy out in little bowls to save the step of putting together individual baskets if your family is past the point of searching for their candy on Easter morning.
We hope these ideas make decorating for Easter easy, and quick this year! Visit us in stores for all the elements you need to create the cutest spring brunch décor and follow our
Instagram account
for more daily inspiration! To shop online just scroll up to the top of the page and click "Shop Online"!